Trucking news and briefs for Friday, May 26, 2023:
ACT: Freight volumes, rates, capacity fell more in April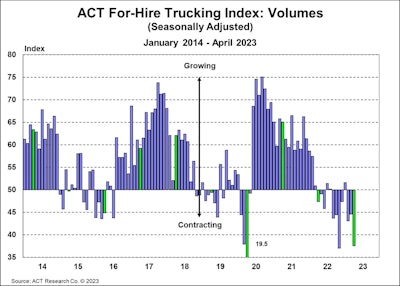 Freight volumes, rates and capacity continued their decline in April, leading to a further weakening of the freight market, according to the latest release of ACT's For-Hire Trucking Index.
The Trucking Volume Index weakened further in April, at 37.6 compared to 44.6 in March. Destocking contributed to the softness, ACT said, although the 24% year-over-year decline in container imports in the first quarter likely represents the worst of the destocking.
"A slowing in destocking would be a positive for volumes," said Tim Denoyer, vice president and senior analyst at ACT Research. "Inflation, while showing tentative improvement, continues to impact consumer spending power, with retail sales in real terms down 3.6% y/y in April. The slow start produce season may also be a headwind."
The Pricing Index's slide continued, as well, falling 2.7 points to 33.4 in April from 36.1 in March. This is the second lowest reading in the index's history, with only April 2020 being lower.
"We believe the cure for low prices is low prices, and since October 2022 the DOT has revoked a net 11k operating authorities," Denoyer added. "While the pricing pendulum remains with shippers for now, the next capacity rebalancing has begun. With capacity slowing and set to decline later this year, rate trends should begin to recover as soon as traction on freight volumes is established."
The Capacity Index ticked down by 0.8 points month over month to 51.8 in April, still growing, but at a slower rate than in 2022. Improvements in equipment production and drivers, due to improvements in the supply chain and drivers seeking safe harbor in larger fleets, helped grow capacity for the past 18 months.
The Supply-Demand Balance loosened further in April, to 35.8 from 42.0 in March, largely due to the month-over-month decline in volumes, but the slight downtick in capacity also added to the looser reading.
"April marked the 14th consecutive underwater point in the series," Denoyer said. "For context, in the 2015-2016 downcycle, the Supply-Demand Balance was loose for 17 of 19 months. While conditions remain loose, the seeds have been sown for a rebalancing."
Florida individual pleads guilty in HHG scheme
On May 10, Avraham Zano pleaded guilty in the U.S. District Court for the Southern District of Florida to wire fraud, interstate transportation of stolen property and failure to give up possession of household goods.
In September 2022, Zano, owner of Zano Moving and Storage, LLC, and Sofien Mlayah, an employee of Zano, were indicted for conspiring to steal household goods from victims who hired the company for interstate moving services, according to the Department of Transportation Office of Inspector General.
OIG said the scheme involved inflating the costs of victims' moves, taking possession of their goods, and abandoning the property throughout the nation at undisclosed self-storage facilities, often resulting in total loss of the victims' property.
Kodiak hires new VP of Safety
Autonomous trucking company Kodiak Robotics has hired Steve Kenner, a widely-respected automotive safety executive with 40 years of experience at technology and automotive giants – including Apple, Uber, Ford, General Motors, and more – to the position of Vice President of Safety.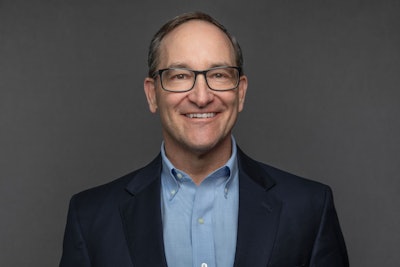 In his role, Kenner will oversee safety across all areas of Kodiak's operations, including fleet and driver operations, safety management systems, and safety policy.
"Steve has long been a leader in vehicle safety, and has the perfect background to lead Kodiak's safety program as we finish the work to commercially launch self-driving trucks," said Don Burnette, founder and CEO of Kodiak. "Safety is at the forefront of everything we do at Kodiak and is central to everyone on our team. Steve will leverage his extensive knowledge to ensure that safety continues to be the throughline across Kodiak."
Kenner, who joined Kodiak this month, reports directly to the CEO. He joins Kodiak as the company continues to make technical and commercial progress, as it recently unveiled the first-ever autonomous electric class 8 truck.