Trucking news and briefs for Thursday, Oct. 26, 2023:
Latest For-Hire Trucking Index suggests gradually improving freight market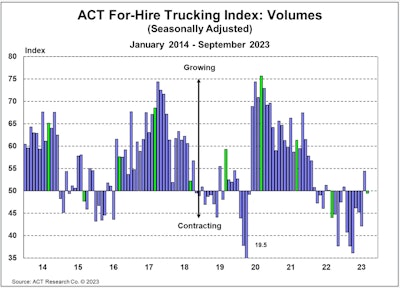 The latest release of ACT Research's For-Hire Trucking Index shows continued improvement in freight volumes, pricing and driver availability.
The Volume Index fell 4.9 points in September to 49.5 seasonally adjusted (SA), from 54.4 in August. While retrenched from the one-off surge last month, this month's reading still shows a gradually improving volume trend. ACT noted that consumers are reverting back to more goods spending as the post-pandemic service boom fades.
"Freight demand fundamentals are starting to improve after nearly two years of substitution, destocking, and inflation," said Tim Denoyer, Vice President & Senior Analyst at ACT Research. "Rising interest rates, declining savings and private fleet growth are ongoing headwinds to for-hire volumes. However, with improving goods consumption trends, the end of destocking, and a resilient industrial sector, we expect the gradually improving trend to continue."
The Pricing Index jumped meaningfully in September, up 9.2 points to 48.5 (SA), as rates continue to stabilize. The "less worse" improvement and soft pricing environment should persist in the near term, ACT noted, as capacity additions continue and fleets hold on to drivers to avoid future hiring challenges when the market turns
"The pricing environment is showing signs of starting to firm, but declines should persist in the near term as capacity additions and an elevated focus on labor retention persist," Denoyer added. "Improvements in volumes and slowly decreasing for-hire capacity are positive signs for pricing. Spot rates have been steady for four months as the rebalancing rolls along."
The Driver Availability Index hit an all-time high in September with a reading of 62. ACT said fleets continue to see a large influx of drivers, unprecedented in the survey's history.
[Related: ATA economist issues dire prediction for spot market carriers]
Two more sentenced in New Orleans staged crash scheme
The U.S. Attorney for the Eastern District of Louisiana has announced the sentencing of two more individuals for their roles in a widespread scheme to stage crashes with tractor-trailers and defraud trucking and insurance companies as a result.
On Sept. 27, Joseph Brewton 57, of Houma, Louisiana, was sentenced to 18 months in prison, to be followed by three years of supervised release, on one count of Conspiracy to Commit Mail Fraud in violation of Title 18, United States Code, Section 371. Brewton was also ordered to pay $554,638.73 in restitution.
According to court documents, Brewton was a passenger in a staged collision in August 2015. After the crash, he recruited family members and friends to participate as passengers in staged automobile collisions with tractor-trailers on March 27, 2017, and May 11, 2017.
The passengers in these collisions filed fraudulent lawsuits falsely claiming that the tractor-trailers were at fault. Through this scheme, Brewton caused a loss of approximately $392,742.77.
On Oct. 24, Roderick Hickman, 52, of Baton Rouge, Louisiana, was sentenced after previously pleading guilty to Conspiracy to Commit Mail Fraud, in violation of Title 18, United States Code, Section 371. Hickman was sentenced to 3.5 years (42 months) in prison and ordered to pay restitution of approximately $5.7 million. He will also be on supervised release for three eyars following his prison sentence.
According to court documents, on March 27, 2017, Hickman, along with four other defendants, intentionally collided with a tractor-trailer at the intersection of Chef Menteur Highway and Downman Road and then fled the scene.
Hickman was referred to attorneys who paid him and another co-defendant to stage the accident. In some cases, the attorneys knew that the participants were uninjured but referred them to medical providers for treatment to increase the value of subsequent lawsuits. In total, the victim trucking and insurance companies paid out $277,500 for these fraudulent claims.
Frito-Lay recognizes latest million-mile drivers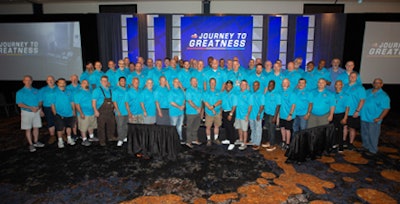 Frito-Lay North America this week unveiled its newest class of Million Milers – 78 over-the-road (OTR) truck drivers from the United States and Canada who have driven one million, two million or even three million miles without a preventable accident. In total, the drivers have safely driven more than 111 million miles.
Reaching the status of a Frito-Lay Million Miler often takes more than a decade of vigilant, accident-free driving. With that in mind, Frito-Lay is especially proud to recognize three drivers who each achieved Three Million Miler status in 2022:
William Chewning, Dallas, Texas – 32 years of service
Jonathan Mann, Killingly, Connecticut – 34 years of service
Daniel Rawlings, Frankfort, Tennessee – 38 years of service
"It is truly our privilege to celebrate the success of our 2022 Million Milers and their unwavering dedication to safety," said Mari Roberts, Frito-Lay's Vice President of Transportation. "Becoming a Frito-Lay Million Miler is about more than just the remarkable number of miles driven. Year after year, these world-class professionals serve as mentors for their fellow drivers, deliver our beloved products with care and prioritize the safety of others without compromise."
In addition to outstanding safety records, the newest class of Million Milers boasts, on average, 20 years of service with Frito-Lay and PepsiCo.