Trucking news and briefs for Friday, Oct. 20, 2023:
Trucking conditions deteriorated further in August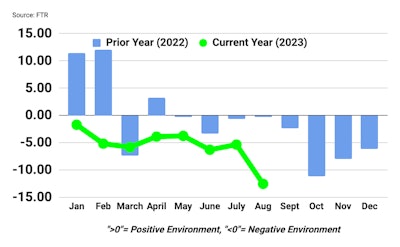 It's likely no surprise to fleets and owner-operators that August was not a good month for most in the trucking business.
During the month, FTR's Trucking Conditions Index fell to -12.54, down significantly from July's already negative reading of -5.34. FTR said the sharp decline in conditions for carriers was due to significantly higher fuel prices and weaker freight volume.
The firm noted that the index's reading implies the toughest overall market conditions for carriers since the beginning of the COVID-19 pandemic in April 2020, adding that "surges in fuel prices tend to hurt small operations disproportionately as they are less likely to benefit from fuel surcharges."
FTR added that while the outlook is improved conditions, it doesn't expect the index to turn consistently positive until late 2024.
"Market conditions for trucking companies look solidly negative through the first quarter of next year as we forecast no significant strengthening of capacity utilization or freight rates, and freight demand is stagnant," said Avery Vise, FTR's vice president of trucking. "A major question is whether consumer spending will remain as strong as it has been in the face of inflation, higher financing costs, and the resumption of debt service of student loan payments."
Vise said freight demand isn't likely to improve in the near-term, "so any near-term improvements in market conditions for carriers would likely come from a sharp drop in driver capacity." Vise noted that while "small carriers continue to exit the market in high numbers," those drivers are mostly being absorbed by larger carriers rather than leaving the industry altogether.
Ultimately, "diesel price volatility and the lack of any near-term strength in spot rates could accelerate carrier failures and tighten capacity," Vise concluded.
Trucker Path adds features aimed at safety for women truckers
The American Trucking Associations' Women in Motion group has formed a strategic partnership with Trucker Path in an effort to address some of the concerns of women truckers.
Through this new partnership, Trucker Path will be adding a number of features to its mobile app that will help women identify and locate facilities that have seven specific safety features including:
Lighted parking
Lighted bathroom access
Lighted lounge areas
Lighted shower facilities with 24/7 access
Lighted laundry facilities with 24/7 access
Round-the-clock maintenance
Onsite security
Facilities with all seven features will be marked with the Women in Motion logo. Drivers will also be able to provide updates on the condition of these amenities through the Trucker Path mobile app.
"We are thrilled to introduce this innovative and informative safety feature to our platform, a decision that deeply resonates with our commitment to inclusivity," said Trucker Path CMO Chris Oliver. "Through our platform, women can quickly and easily identify stops along their routes offering amenities catering to their needs, all while accessing real-time information on parking availability, fuel pricing and discounts, and so much more. Additionally, they can contribute their comments and reviews that serve as a valuable resource for fellow drivers -- both women and men."
Saia announces scholarship recipients
Saia Inc. (CCJ Top 250, No. 19) recently awarded scholarships to 20 students as part of the company's annual program. Since its inception, the scholarship program has awarded nearly $600,000 to 293 students, including this year's recipients.
The following students received a 2023 scholarship:
Mason Baugh of Kansas City, Missouri
Ryker Berry of Bridge City, Texas
Taylor Brockman of West Palm Beach, Florida
Mary Carter of Baton Rouge, Louisiana
Ray Choi of Flowery Branch, Georgia
Kenechukwu Egbuonu of Grand Prairie, Texas
Chimdimma Egbuonu of Grand Prairie, Texas
Laila Garba of Indianapolis, Indiana
Emily George of Tucker, Georgia
Rebecca Hawkins of Kings Mountain, North Carolina
Lauren Jackson of Charlotte, North Carolina
Jennifer Johnston-Muse of Marrero, Louisiana
Norbert Krajewski of Inverness, Florida
Amayah Novrit of Carteret, New Jersey
Denisse Peterson of Buckeye, Arizona
Cody Richardson of Brooklyn, Michigan
Jessica Rodriguez of Chicago, Illinois
Madison Segreti of Oak Forest, Illinois
Luke Syverud of Gurnee, Illinois
Shane Thoma of Wellsburg, West Virginia
"Every year, I am always so impressed with the accomplishments of our applicants," said Saia President and CEO Fritz Holzgrefe. "We are pleased to be able to offer the scholarship program to our employees and their dependents. This year's winners are truly deserving of this recognition."
Saia's scholarship program is designed to recognize employees and their dependents' commitment to education and community as they pursue a college education.
Applications to the program are reviewed by a selection committee, which evaluates each student's academic achievement, essay quality, community service, leadership capabilities, communication skills and recommendation letters.
W.W. Williams becomes authorized Allison Transmission distributor
Allison Transmission has appointed W.W. Williams as the authorized distributor for the Pacific Northwest, including the states of Washington, Alaska and parts of Oregon, Idaho, and Northern California.
The territories include three parts and service facilities, a training center, and a network of 80-plus dealers. The company said it is up and running with a stock of inventory, assets to run the business, and a full staff for the region.
The territory expansion will report to David Ruff, W.W. Williams Divisional Vice President, Southwest, Northwest, and Mexico.
"This represents a significant step forward in the continued growth of our business from a volume, footprint, and service capability perspective. It serves to strengthen our long-standing relationship with Allison Transmission and adds to our commitment of resources to their business," Ruff said.