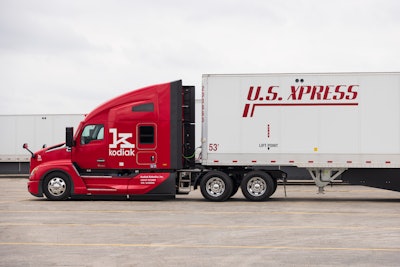 Self-driving trucking company Kodiak Robotics announced this morning that, in partnership with U.S. Xpress, the two companies have launched Level 4 autonomous freight service between Dallas-Fort Worth and Atlanta.
U.S. Xpress (CCJ Top 250, No. 16) will become the first cornerstone truckload partner in Kodiak's Partner Deployment Program, working jointly with Kodiak to deploy self-driving technology. This strategic partnership also marks the launch of the first commercial autonomous trucking lane to the East Coast.
U.S. Xpress in February announced a collaboration with autonomous truck developer Aurora to explore the deployment of the Aurora Driver within its Variant division.
Using a Kodiak self-driving truck and U.S. Xpress trailers, the two companies last month completed a first-of-its-kind pilot, hauling freight on four round-trips (eight segments), covering approximately 6,350 miles and delivering eight commercial loads between Dallas and Atlanta.
As part of this partnership, a Kodiak autonomous tractor picked up and delivered U.S. Xpress pre-loaded trailers. A rotating team of four professional Kodiak safety drivers oversaw the autonomous system and the truck ran 24 hours a day for 131 total hours – nearly five-and-a-half full days. The results represent a more than 100% increase in utilization compared to a traditional truck and professional driver with an 11 hours of service limit.
Kodiak Robotics Head of Commercialization Michael Wiesinger said the truck was in autonomous mode on the highway portions of the route between Dallas and Atlanta, stopping only to fuel, take safety breaks and to swap trailers at U.S. Xpress facilities in Dallas and Atlanta.
"We drove in autonomous mode for the highway portions of the trip, but the self-driving system operated continuously in the background for the entire 131 hours," he added. "Operating for 131 hours straight is a significant engineering achievement and critical step on the path towards deployment. Most autonomous systems return to base once a day and need to be reset periodically. Over the course of the pilot, the Kodiak truck never returned to a Kodiak facility, and the self-driving system was operating non-stop."
Wiesinger said humans did disengage the autonomous system for several reasons. For example, "we encountered severe weather," he said, adding "we do not cherry-pick time, weather or traffic conditions ... Disengagements are typical as we are onboarding a route. We had only done one mapping run and two validation runs of the route before the pilot. This pilot shows the power of Kodiak's lightweight mapping solution, which allows Kodiak to bring new routes online quickly and efficiently."
The five-and-a-half day pilot between Dallas and Atlanta kicked off Monday, March 21 at 5 p.m. CT and ran continuously until Sunday, March 27 at 3:30 a.m. CT. Wiesinger noted the autonomous system handled both light and rush-hour traffic along the way.
"This pilot demonstrated to our operations teams and our customers the benefits that can come with autonomous technology," said Eric Fuller, president and CEO of U.S. Xpress. "We fundamentally believe that Kodiak's autonomous technology will allow us to scale our fleet while increasing truck utilization compared to a human-driven truck. Our strategic partnership is helping both of our teams identify ways to quickly integrate and scale autonomous technology into our fleet once it is commercially available."
Fuller noted the route between Dallas and Atlanta is a perfect entry point for continuous autonomous operation because it's slightly longer than what a driver can execute in a day but too short to economically run as a team.
Kodiak Founder and CEO Don Burnette said the partnership with U.S. Xpress marks his company's expansion to the East Coast, adding that he believes it is the farthest east any company has delivered multiple loads using autonomous technology.
"Having the capacity to sustain 24/7 operations across the more than 750 miles between Dallas and Atlanta — two of our nation's busiest freight hubs — represents a giant step forward for Kodiak and for the AV trucking industry as a whole," he said. "We chose to make U.S. Xpress a cornerstone partner in our Partner Deployment Program because we see U.S. Xpress and its Variant division as ideal long-term partners for the deployment and scaling of our autonomous long-haul solution."
Kodiak will continue to haul freight with U.S. Xpress between Dallas and Atlanta, as well as other lanes within the Kodiak network.
In addition to Dallas to Atlanta, Kodiak has been delivering freight daily on the 240-mile lane from Dallas to Houston since mid-2019 and on the 280-mile lane between Dallas and San Antonio since mid-2021. The company leverages its proprietary lightweight mapping solution to rapidly and safely add new lanes, including the recently announced launch of commercial operations between Dallas and Oklahoma City in February.