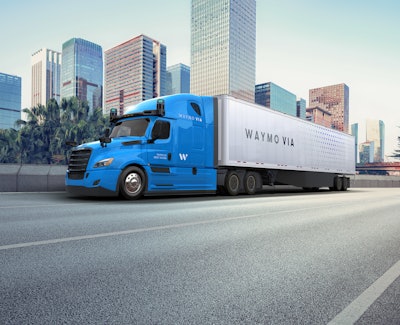 Daimler Truck North America and Waymo, Google parent Alphabet's autonomous driving division, are set to kick off public testing of the first-ever redundant autonomous Class 8 trucking platform across Phoenix and Dallas in the next few weeks, calling it "an important step forward for the widespread deployment of autonomous trucks."
The two companies – who in October 2020 announced a global strategic partnership – have autonomy earmarked as a potential solution to several trucking-specific problems: safety (4,000 people died in large truck crashes in the U.S. in 2020), capacity (asset utilization rates are around 50% and about one-third of all driven miles are empty) and driver recruitment.
As of today, there is no production-ready, scalable, fully-redundant Class 8 truck platform, noted Boris Sofman, Waymo's head of engineering for trucking. However, Waymo and DTNA are seeking to jointly develop the first-ever redundant, Level 4-ready truck platform powered by the Waymo Driver – a platform that includes ensuring compatibility with Waymo technology; aligning system requirements and specifications; testing and validating requirements and specifications; and implementing redundant features, such as steering and braking. The Waymo Driver itself is a hardware and software suite that includes radar, lidar and camera sensors.
While the base model for the platform is an off-the-rack Freightliner Cascadia, in order to provide a Waymo Driver-ready truck, DTNA executed more than 1,500 Waymo Functional Requirements, including modifications and/or additions to the truck's hardware and software.
The Waymo Driver, currently on its fifth generation, hauls everyday between north, central and south Texas, but there is a human safety driver in the truck. Many of the aforementioned modifications, according to Engineering Lead for Waymo's OEM program Jason DiGrande, are to include layers of redundancy for added safety and capability when a human driver is eventually removed from the cab.
System redundancies
Level 4 is widely considered the first "driverless" level of autonomy. Often referred to as "high-driving automation," Level 4 autonomy requires no human interaction to operate a vehicle between two set points. With no human to take over in the event of a system failure, Sofman noted that redundancies become a critical part of vehicle operation.
Redundant braking and steering systems are designed to be fail-operational, ensuring lateral and longitudinal controllability to bring the vehicle to a safe state.
Two electronic brake controllers guarantee brake performance in the event the primary system fails. Primary and secondary electronic braking system (EBS) controllers offer precise and reliable controls to decelerate the truck and the trailer. Should primary EBS encounter any critical faults, the secondary EBS will take over to execute a Minimal Risk Maneuver (MRM) – or get the vehicle to the safest condition possible. Primary and secondary EBS have dedicated low-voltage Powernet and CAN Communication to protect against any single point of failure.
An electronic parking brake gives the Autonomous Driving System (ADS) the ability to apply and release truck and trailer park brakes with CAN signals. Should there be any failures in the electronic parking brake that prevent the ADS from applying park brakes, CAN communication to the EBS will trigger the EBS to pneumatically activate the parking brake.
The steering system is equipped with two servo motors for backup support in case of an electronic or hydraulic failure. Both servo motors receive steering torque demand from the ADS and provide the requested steering angle and steering rate in parallel. Should any one of the servo motors experience a fault, the second motor fully takes over to provide required steering commands to execute the MRM.
Driven by the need to "reinvent how we can generate the power for this system," Daimler Truck North America Director of Engineering Suman Narayanan said a new 48-volt alternator is used to make more power at a higher voltage, but "the vehicle still remains at a 12-volt architecture."
If the alternator can no longer send power back to the battery – if a belt breaks, Narayanan theorized – battery storage has been increased by 50%, which would continue to supply the system as it executes its MRM.
A high-speed CAN flexible data rate (CAN FR) provides network communications up to 5Mbps on critical controllers, compared to standard CAN2.0 communication speeds of 500 to 600 kbps. Redundant CAN communication to critical controllers ensures that vehicle can always fulfill core controllability and performance criteria demanded by the ADS.
With so much data flowing through, to and from the truck, Secured Onboard Communication (SecOC) is implemented on several critical controllers to verify and authenticate commands from the ADS to prevent a cyberattack, and it ensures that the vehicle can detect and protect itself from any unauthorized threat.
Going to market
Waymo has developed several trucking pilot partnerships (Uber Freight and J.B. Hunt, among them) that Sofman said his company uses to develop "operational best practices... and learn how our product matches what customers expect."
The next logical step, though, will be to eventually remove the safety driver from the equation and make the Waymo Driver commercially available for spec – going from a Waymo owned and operated fleet, Sofman said, "to one where a customer would purchase a truck from Daimler that would have a Waymo Driver."
As the platform builds commercial scale, DiGrande said he expects the Waymo Driver upfit to happen on the Freightliner assembly line (with all the Waymo Driver components coming from Waymo) and all ongoing maintenance to be handled at the dealer-level.