Trucking news and briefs for Tuesday, August 2, 2022:
115 XPO drivers reach 1 million accident-free miles; 90 for the first time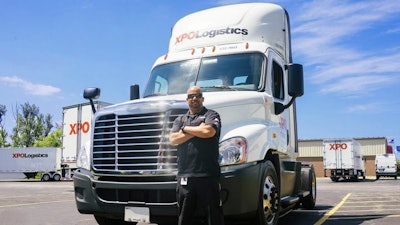 XPO Logistics (CCJ Top, 250, No. 6) announced that 115 of the company's truck drivers (from 34 states) have been honored for reaching "million miler" status in the first six months of 2022. Their achievements add a collective 142 million accident-free miles to the strong safety record of XPO's North American less-than-truckload (LTL) business.
Two of the drivers surpassed three million accident-free miles: Johnny Bass of Knoxville, Tennessee, and Paul Hartman of Blythe, California. In addition, 23 drivers exceeded two million accident-free miles, and 90 drivers became first-time million milers at one million miles. XPO tracks accident-free miles in its LTL network as part of Road to Zero, the company's comprehensive safety program.
Schneider, Aurora ink autonomous truck deal in Texas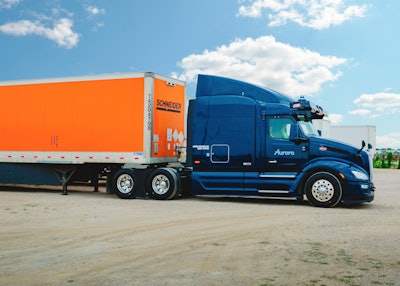 Autonomous vehicle company Aurora Innovation on Monday announced a partnership with Schneider National (No. 8) to haul freight for Schneider's customers in Peterbilt's equipped with the Aurora Driver, a self-driving system designed to operate multiple vehicle types, from freight-hauling semi-trucks to ride-hailing passenger vehicles.
The Aurora Driver will begin weekly autonomous hauls this week between Dallas and Houston with Aurora vehicle operators on board.
The deal marks Aurora's fourth commercial pilot in the last year, joining FedEx (No. 1), Uber Freight and Werner (No. 13). The company also inked collaboration partnerships with US Xpress and Covenant.
Schneider hauls freight on over 9.3 million miles a day for America's biggest companies, creating an attractive value proposition for autonomous trucks that can haul freight 24/7/365.
"Understanding more about an autonomous future is the logical next step to build a network that continues to deliver the best service for our customers," said Schneider Executive Vice President and Chief Administrative Officer Rob Reich, noting the Aurora Driver will begin weekly autonomous hauls this week between Dallas and Houston with Aurora vehicle operators on board. Load frequency is expected to increase as Schneider expands its relationship with Aurora.
PGT Trucking names new Senior VP
PGT Trucking (No. 101), a multi-service transportation firm offering flatbed, dedicated, international and specialized services, has named Robert Hoelke Senior Vice President, Commercial.
Hoelke brings more than two decades of experience in sales leadership and business development within the steel industry, with a strong commitment to building relationships, driving revenue and developing top-performing teams through innovative strategies and a focus on customer service and satisfaction. In addition, Hoelke concentrated on growing sales efforts in various end markets and developing cost-effective transit solutions for customers.
Hoelke holds his bachelor's degree in logistics from The Pennsylvania State University and his Strategic Metals Management Certificate from Washington University in St. Louis. Born and raised in Pittsburgh, PA, he currently resides in Franklin Park, PA, with his wife and children.
Saia opens fifth LTL terminal in New York State
Saia LTL Freight has opened a new terminal near Binghamton, New York – the fifth for Saia (No. 20) in the Empire State.
In the second quarter alone, Saia has opened four new terminals in new markets. Year-to-date, the company has opened a total of six facilities including Binghamton. Through the latter half of the year, an additional seven to 10 new terminals are slated to open.