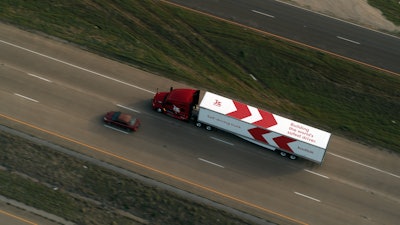 Pilot Company is partnering with autonomous trucking company Kodiak Robotics to develop autonomous truck services at its Pilot and Flying J travel centers. Pilot Company has also made a strategic investment in Kodiak and will join the company's Board of Directors.
An Atlanta-area autonomous truckport is already under development to evaluate potential service offerings and explore scalable solutions. Services will include spaces to pick-up and drop-off autonomous trucking loads; conduct inspections; maintain and refuel trucks; and the ability to transfer data for processing, such as feature development and mapping.
"As Atlanta is a high-traffic location for heavy-duty trucks, this location will be best suited to provide our team with the insights necessary to enhance our autonomous truck services," said John Tully, Pilot Company vice president of strategy and business development, adding the companies are currently working to identify the best location for this initiative. "Combining Pilot Company's nationwide network of travel centers and services with Kodiak's technology, this partnership will provide an opportunity to further define service and maintenance requirements, operational necessities, facilities planning, and more that will help us to better meet the needs of fleets investing in autonomous trucks."
As part of the partnership, Kodiak will lend its expertise as Pilot Company looks to integrate autonomous truck services into its operations. However, Pilot Company – the fourth largest tanker fleet in the U.S. with more than 1,600 trucks – isn't planning to incorporate autonomous vehicles into its own fleet, Tully said. "Rather, we're looking to enhance our ability to serve fleets that are investing in autonomous technologies via our travel centers. Drivers are the core of our business and we are always working to stay on the forefront of technologies and services that support the needs of our customers."
Kodiak in July announced a partnership with 10 Roads Express, a provider of time sensitive surface transportation for the U.S. Postal Service, expanding the company's service to Florida. Earlier this year, Kodiak announced a new route between Dallas and Oklahoma City with CEVA Logistics and a route between Dallas and Atlanta with U.S. Xpress. The company has been delivering freight commercially since 2019 and currently has six routes that run regularly between Dallas and Houston, Austin, San Antonio, Atlanta, Oklahoma City and Jacksonville, Florida.