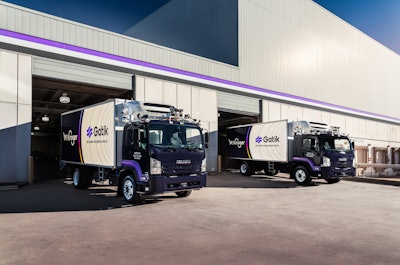 Autonomous technology company Gatik is continuing its quest to take the driver out of the middle mile via partnership with Kroger.
The two companies have reached a multi-year collaboration to transport customer orders within Kroger's Dallas distribution network where Gatik's medium-duty autonomous box trucks will transport products from a Kroger Customer Fulfillment Center in Dallas, Texas, to multiple retail locations. The collaboration involves consistent, repeated delivery runs multiple times per day, seven days per week in the coming months.
In collaboration with Walmart, Gatik is already operating daily without a safety driver behind the wheel of its delivery route in Bentonville, Arkansas, moving customer orders between a Walmart dark store and a Neighborhood Market via a fleet of multi-temperature autonomous box trucks.
Since launching commercial operation in 2019, Gatik claims it has delivered half a million customer orders with its commercial-grade autonomous technology on the middle mile. Gatik provides Autonomous Transportation as a Service (ATaaS) daily for customers across multiple markets including Arkansas and Ontario, and is continuing to densify its commercial presence in the state of Texas.
"Kroger's commitment to redefining service levels for its customers through innovative technology meant that our collaboration came together very quickly," said Gautam Narang, co-founder and CEO of Gatik. "We're deeply familiar with operating our autonomous fleet within the Dallas ecosystem, and we're very excited to bring that experience to support Kroger in its mission to reshape the future of goods delivery."
Gatik first expanded operations to Texas in August 2021 with the opening of an autonomous trucking facility and started making deliveries for multiple customers. Gatik integrated its Class 6 autonomous box trucks into the Pitney Bowes ecommerce logistics network in Dallas, Texas, establishing a continuous operational loop across Dallas, making multiple deliveries per day across a complex urban operating environment. Operations are kicking off this year. Gatik last July started delivering goods to 34 Sam's Club locations in the Dallas-Fort Worth metroplex to enhance service levels and product flow within the Georgia-Pacific-KBX on-road transportation network.
Raúl Bujalil, Kroger's vice president of supply chain strategy and technology enablers, said these autonomous box trucks will help create a seamless shopping experience, "where customers can access their favorite fresh foods, with zero compromise on value or convenience."