Trucking news and briefs for Thursday, March 30, 2023:
Mississippi okays driverless vehicles
Mississippi Gov. Tate Reeves this week signed HB 1003, establishing a legal framework for autonomous vehicles to test and deploy in the state.
H.B. 1003 defines "fully autonomous vehicle" as a motor vehicle equipped with an automated driving system designed to function without a human driver (SAE Level 4 or Level 5).
"The Autonomous Vehicle Industry Association (AVIA) applauds Governor Tate Reeves for signing HB 1003 and officially opening Mississippi to the safety, mobility and economic benefits of autonomous vehicles (AVs)," said Executive Director Jeff Farrah. "Mississippi now joins 22 other states that have unlocked the technology, safety, and supply chain benefits of autonomous vehicles."
Road infrastructure report finds Rhode Island, West Virginia are the worst
A recent report compiled by insurance comparison marketplace QuoteWizard's found that roads and bridges in poor condition cost drivers an average of $556 annually. Nationwide, nearly 20% of America's roads and 5% of bridges are currently in unacceptable conditions but Rhode Island, with 48% of its roads in non-acceptable condition, leads the way. Virginia is a close second at 31%.
"Poor roads and bridges are a huge cost. They cost people time, they cost people money and they can contribute to crashes. We found that the more states reinvest in their roads, the better road conditions are and the less drivers pay in the long run," said Nick VinZant, QuoteWizard senior research analyst.
QuoteWizard analyzed data from the Bureau of Transportation Statistics on the percentage of non-acceptable roads and square miles of poor bridge deck. Nationwide, 19% of roads are in non-acceptable condition and 5% of bridges are in poor condition, the report found. Georgia, Alabama, and Florida have the best road infrastructure, according to the report.
UPS adds more training simulators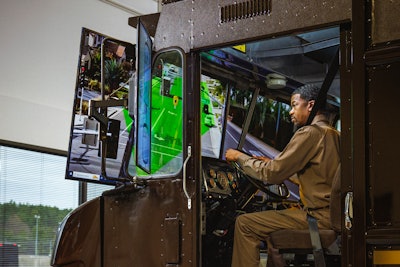 UPS (
CCJ
Top 250
, No. 2) on Wednesday rolled out 20 additional driving and delivery simulators across the country, nearly doubling the number of driving simulators in UPS facilities since first launching in 2020.
The UPS Driving Simulator provides realistic driving experiences – including real-life challenges with typical road hazards, such as pedestrians, parked cars and oncoming traffic – before UPS drivers operate an actual delivery vehicle. This VR experience is coupled with hands-on driving and instructor-led classroom training delivered by professional trainers.
UPS last year invested $343 million on safety training courses.
"Safety begins with the right training and is a process of daily commitment and continual learning," said Jacqueline Williams, a UPS Circle of Honor driver with 42 years of accident-free driving. "I use the safe work methods we learn every day. They help me and my fellow drivers to stay safe while keeping our customers and communities safe as well."
100 orders for Nikola fuel cell truck
Nikola Corp. says it's received 100 orders for its Class 8 Nikola Tre hydrogen fuel cell electric vehicle, which the company expects to be available this calendar year and deliveries commencing by year's end.
The truck has a range of up to 500 miles and a fueling time of about 20 minutes based on expected technology improvements, Nikola said.
California's Hybrid and Zero-Emission Truck and Bus Voucher Incentive Project played a role in many of the 100 orders, the company says. It enables customers to access an incentive that ranges from $240,000 to $288,000 per truck this year. Customers are also eligible for a $40,000 clean commercial vehicle tax credit from the federal government.