Some fleets see a truck and trailer as a 75-feet-long means to an end; moving freight from point A to point B. Others see it as a canvas – an opportunity to promote their company's brand and elevate awareness of important groups and causes among the driving public. Fleet graphics nominations for this year's CCJ's Five Flashiest Fleets, sponsored by 3M, included a lot of color, a lot support for causes and awareness campaigns, and some simplified designs that pull an entire package together.
Since 1978, CCJ has been pleased to recognize excellence in fleet graphics design and execution. The judges for this year's competition included the editorial staff from CCJ and its sister-publications Overdrive and Trucks, Parts, Service, the company's art design department and marketing staff. Each judge ranked their top 10, and scores were averaged to determine a final ranking.
Here are this year's Five Flashiest Fleets, whose outstanding graphics best represent their products and services and take advantage of the opportunity to tell a story.
5. Long haul ahead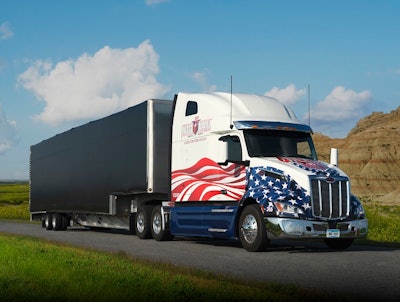 Albertville, Minnesota's Long Haul Trucking (CCJ Top 250, No.224) is no stranger to CCJ's Five Flashiest list, and that is a noteworthy achievement considering that the company's truck and trailer graphics aren't something necessarily in your face. They're just clean, bright and well-packaged.
"Long Haul takes pride in trying to stick to the roots of professional driving with a modern touch that illustrates a passion for where we come from while taking a proud step forward to elevate the industries image," said LHT Vice President of Sales and Marketing Anthony Book. "Being a professional driver we feel means taking pride in maintaining and operating top shelf equipment, our fleet is built to help deliver that message on every load hauled. Lastly, individuality in equipment is something we hold near and dear. No two drivers are alike; they are all professionals with individual skills that help make them great at what they do. Drivers that operate equipment which help embody their own individualism we believe helps them take greater pride in the rigs they have."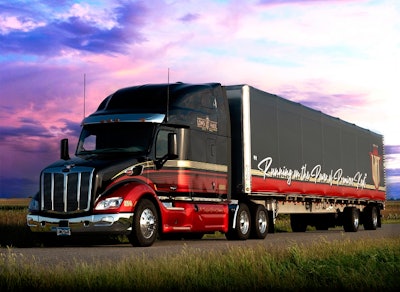 4. I did it Kam-Way
Based in Blaine, Washington, 668 truck Kam-Way sees the space available on its rigs as potential: the potential to show appreciation to "our drivers and [for] the opportunity that free enterprise in the United States of America provides our company," said Asset Manager Walt Meserve. Kam-Way has clearly also put the broadside space on the trailer's side to use, purposing its billboard-like size to help locate missing children and honor military veterans.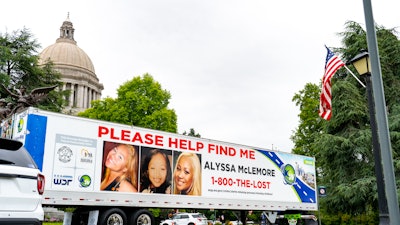 3. Off the hook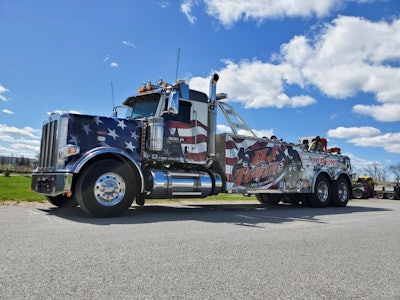 Graphic design fun and creativity isn't something that has to be exclusive to Class 8's tugging 53-foot trailers. Fleets of any size or truck configuration can take a lesson from Carlisle, Pennsylvania-based HJ Towing and Recovery, who have done an excellent job of making a big impression with little space.
Jacob Richcreek, heavy wrecker operator and administrator for the company, noted that while most of the company's trucks indeed have uniform fleet design, there are multiple theme trucks with more inspired packages.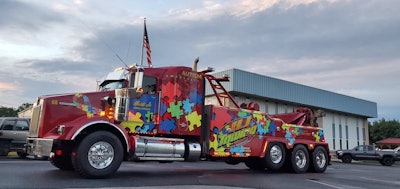 2. 600 million eyeballs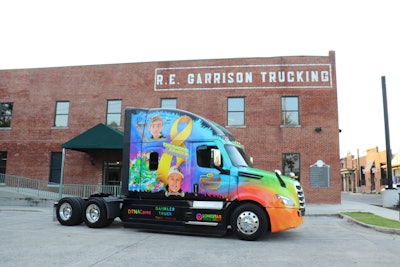 For many years, military appreciation was a theme that dominated CCJ's Five Flashiest Fleets list. That's still prevalent but we've also seen a substantial uptick in the number of rigs that are designed to raise awareness of anything from cancer to autism.
Taylor Foshee, R.E. Garrison's director of employee engagement, said the fleet of nearly 900 trucks is dedicated to bringing awareness to the causes that matter to its communities and the families that the Cullman, Alabama-based company (No. 124) serves. "The Childhood Cancer Awareness trucks are a first of their kind wrapped truck that features nine individuals and tells the story of their battle with childhood cancer," she said. "The pair were dedicated on August 19, 2023. The trucks will generate over 300 million impressions a piece over the time the truck is under dispatch. At R.E. Garrison and Boaty's Transport, we count that as 300 million opportunities to tell the stories of this amazing cause."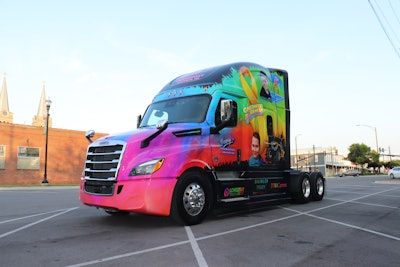 1. Comfort and reassurance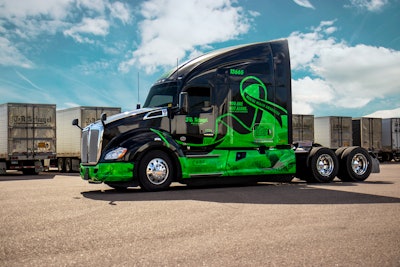 The words in this headline aren't generally two words you see associated with trucking, but Tony Helget, marketing coordinator for New Ulm, Minnesota-based J&R Schugel Trucking (No. 122), hopes that is the take away from the company's trucks that are designed to honor those fighting illnesses and disease. "Our wrapped trucks are intended to provide a sense of comfort and reassurance to those affected by the disease," he said, "and to convey the idea that there is support and resources available to help them navigate their journey."