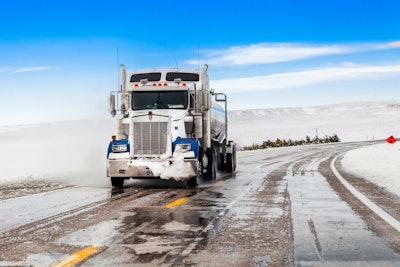 Proper truck and trailer maintenance isn't seasonal, but as temperatures begin to swing from hot to cool – and then to cold in the months ahead – the demands and stresses on a given system can change.
CCJ spoke with several maintenance experts who each offered their recommendations for winterizing a truck.
Air system and brakes
The air brake system is prone to developing air leaks in the winter, many of which are a result of poor maintenance practices, said Homer Hogg, director of technical service for TravelCenters of America.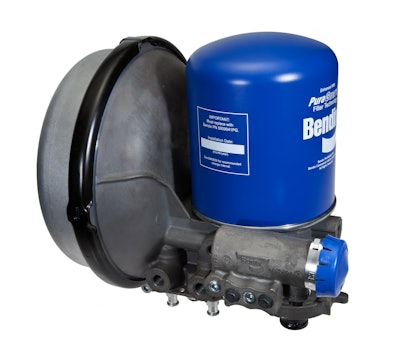 "Perform a diagnostic while draining the tanks," Hogg said. "How much moisture came out? Was it contaminated with oil? Asking these questions can help identify potential problems so you can address them now instead of on the side of the road on a cold winter morning."
The air dryer is designed to remove moisture and contaminants from the truck's air system. Enough moisture in the system can lead to various problems even if it's not frozen.
"Drain the moisture from air tanks routinely to prevent moisture from entering air valves," said Joe Puff, vice president of truck technology and maintenance for NationaLease. "If you see excessive moisture while draining tanks, it may be an indication of an air dryer malfunction, bad filter or excessive air leaks. Change the cartridge filter as recommended by the manufacturer or when you see signs of excessive moisture."
Moisture in the compressed air system is a problem at any temperature, but the system in the winter makes more condensation because of the changing temperatures, which can lead to frozen valves and brakes, said Brent Bergevin, vice president of transportation for Love's.
An air dryer's purge valve, which is key to removing moisture, is especially susceptible to contamination in winter due to the abundance of water, chemical treatment, salt and sand on many roads, said Rich Nagel, Bendix's director of marketing and customer solutions – Air Supply & Powertrain.
Tom Herrick, Transervice Logistics' general manager, Berkeley Division – West, suggested marking the date of the filter change on the dryer filter as a reminder.
Bergevin said drivers should make sure all s-cams, slack adjusters and moving parts are well lubricated because, as temperatures drop, "old grease can thicken up and cause brakes to become slow to release, causing overheated brakes."
Battery and electrical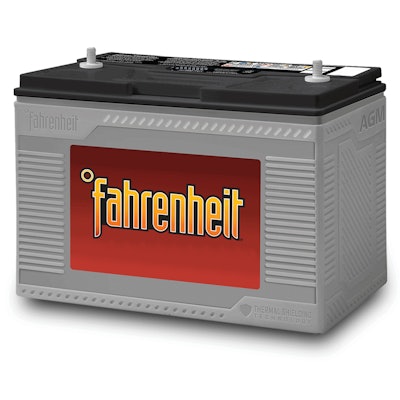 Cold engines require much more battery power to start, and heat is damaging to a battery. The damage done to a truck's battery during the summer months may not reveal itself until the onset of cold weather.
"Winter also means driving during extended periods of darkness, which can cause stress to your alternator," Hogg said. "Test your alternator's ability to produce voltage and amperage now to help avoid some serious downtime this winter."
Puff said a simple smart battery tester or carbon pile load tester can tell a lot about a battery's health, adding that a discharged battery can freeze at around 30 degrees Fahrenheit while a fully charged one will begin to freeze only at lower temperatures.
Gino Fontana, Transervice's vice president of operations, Berkeley Division and Puerto Rico, also suggested checking all exposed wiring for cuts and nicks, as corrosive road deicing chemicals will use those openings as entry points into the electrical system.
"Make sure wiring connections are tight and clean, and then coat them with dielectric grease or spray to prevent corrosion from developing on wiring," Fontana said.
Belts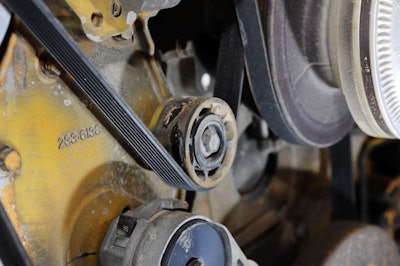 Belts often are forgotten, but Hogg said they deserve special attention ahead of winter. When the temperature drops, belts can snap if they're in poor condition.
"It is very difficult, if not impossible, to visually detect a bad belt," he said. "Modern belts are made of ethylene propylene diene monomer (EPDM), which will not show visible signs of wear. A gauge must be used to detect the wear condition of the belt."
Hogg recommended checking the entire belt drive system, including tensioners and pullers. The rule of thumb is to replace the tensioner during every other belt replacement.
"Lastly, don't forget to check belt alignment," he said. "The chirping sound that we often hear in the belt drive system is typically caused by a belt that is not aligned properly."
Coolant and fluids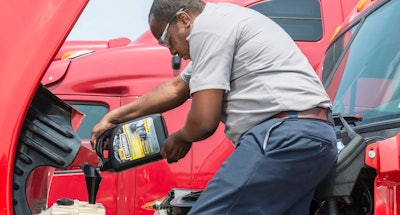 The obvious checkpoint heading into freezing temperatures is the truck's antifreeze, specifically "to check the coolant freeze point for adequate protection for the climate traveled," Puff said.
A refractometer can test a coolant's freeze protection levels. Puff cautions against depending on a floating ball-type hydrometer, as these can get contaminated over time and provide inaccurate results. He advocated using test strips to check the inhibitor protection level.
A coolant checkup shouldn't stop with the fluid. Hogg suggested a complete a pressure test of the coolant system to help detect potential leak points before the mercury drops and exposes poor connections and weak components. Puff advised to inspect all hoses for weather-cracking or deterioration, check the hose routing for chaffing, look for signs of coolant seeping around clamps, check for debris in the radiator, and check the belts, fan and hub.
When topping off coolant, remember that not all coolants are compatible, Puff said.
"Mixing the wrong two coolants could deplete the inhibitors, causing cavitation in the engine, which can lead to an engine failure down the road," he said. "I like marking the coolant bottle with the type of coolant used so there are not mistakes."
Coolant isn't the only fluid under the hood that could warrant a change as fall temperatures begin to slide.
"Consider changing windshield washer fluid, which is typically good to about 20 degrees Fahrenheit, to a fluid that is more of a deicer that will work to -20 degrees Fahrenheit," said Mark Finger, Transervice's vice president of operations.
"Don't waste time waiting for your windshield to defrost," added Jon Salter, director of shop operations for Pilot Flying J Truck Care. "By adding anti-frost and anti-fog treatments, you can hit the road and be on your way."
Fontana also suggested adding a windshield washer fluid heater or heated wiper blades to trucks that operate in extremely cold temperatures.
Drivers
Sean Storey, vice president of capital equipment for Corcentric, suggested making sure drivers get additional training on the hazards of winter driving every year before the seasons change.
"During the late summer to early fall, fleets should conduct a safety meeting with their drivers," he said. "This is usually the best time to include a training session to cover winter weather driving tips and how drivers can make themselves safer during the season."
Storey recommended putting together a standard inventory of items to help drivers cope with a winter weather breakdown, such as a first aid kit, a blanket, road flares, safety triangles, a fire extinguisher and a current road atlas. Drivers also should be encouraged to prepare their own winter weather kit for personal comfort, he said, suggesting they pack prepackaged food, extra water, extra warm clothes, weatherproof boots/clothes, a knit cap, a flashlight and extra batteries, an emergency cell phone battery and extra medicines prescribed by a doctor.
Fuel system
The fuel/water separator should be checked daily because the temperature difference between the ambient temperature and the fuel in the tanks can cause condensation.
"That water can be suspended in diesel fuel, and even a little suspended contamination can severely damage injectors and fuel pumps," Puff said.
HVAC
As the outside air gets cooler, air conditioning system maintenance may seem less important, but Finger said it is important to ensure the HVAC system "is working properly, or you could have a defrost issue on the windshield, which could impair the driver's ability to see."
Hogg recommended cycling the mode door to be sure the duct doors are moving and closing properly. "If the doors are leaking, your defroster won't receive proper airflow, which could prevent you from clearing your windshield when weather conditions worsen," he said.
Tires
Checking tires for tread depths and damage is a daily to-do and not just seasonal, but Storey said the looming change provides an opportunity to focus on it.
"Get the tire pressure reading for each tire, and any that are not at the correct pressure reading need to be inflated," he said. "As the weather cools, a 10-degree drop in the air temperature will decrease each tire's pressure by approximately 1 pound per square inch."
Salter recommended inspecting tires to ensure they have deep lugs and are inflated properly. "Extend the life of your tires by inflating, inspecting and checking valve stem caps, washing the tires and wheels and rotating and balancing the tires on a routine basis," he said.
Keeping fuel tanks topped off provides extra weight over the tires to aid with traction on slick wintery roads. For instances when even more traction is needed, check tire chains to be sure they are in working order and ready for when they are needed, Salter said.
Miscellaneous
• The added weight of snow and ice can tear a mud flap, resulting in potentially losing it, Bergevin said.
• Tire chains and heavy-duty ice scrappers are important for the person driving the truck and the vehicles around them, Bergevin said. Some states also require drivers to remove snow from trucks and trailers, so not having this equipment also can cause deliveries to be late.
• Storey said many of the best-managed fleets plan in advance for the winter driving season by preordering supplies during the summer so each shop will have proper inventory to efficiently cycle trucks through in the fall and send them out prepared to handle the challenges of driving as the temperature drops and roads get icy. "If fleet maintenance is handled by a third-party provider, make sure they have a program to proactively prepare your trucks for the winter driving conditions, and spot-check these vendors to confirm they are on top of this program for your vehicles," he said.