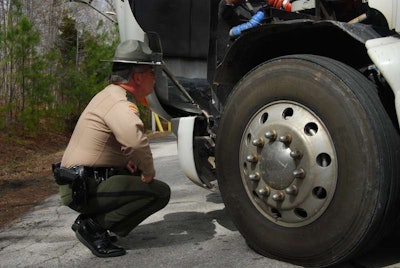 While the Federal Motor Carrier Safety Administration (FMCSA) has announced that during the COVID-19 pandemic it will be using off-site compliance reviews more extensively, it still is continuing to conduct roadside inspections.
Here's a look at some ways you can make sure your drivers and trucks are prepared.
A good PM program is essential
One of the most important things you can do to ensure a smooth interaction during a roadside inspection is to have a good preventive maintenance (PM) program that includes a multi-point checklist for each vehicle. But having a PM program in place is not enough. You also need a system that tracks PM compliance so you have a record of PM service that has been completed and a way to know which trucks have outstanding PMs. You need to make sure you are keeping up with your PMs and prioritizing completing service on trucks with overdue PMs. In the case of an accident, you will be asked for your PM records. It won't look good if your records show that it has been nine months since PM service was performed on your truck.
Rely on the pre-trip, but don't forget the post-trip
The most frequent eyes on your equipment are those of your drivers. Make sure they are performing thorough pre-trip inspections. If, for example, you start seeing tire failures within reasonable proximity to your location — 30 to 60 miles — that tire had a problem before it left your facility, which means a proper pre-trip inspection was not completed.
As important as pre-trip inspections are, don't forget about post-trip inspections. A lot of people think the post-trip inspection takes a back seat to the pre-trip. This is not true. They are of equal importance. The post-trip inspection allows you to discover issues that developed while the truck was on the road. Catching something in a post-trip inspection also gives the fleet shop or an outside service provider the opportunity to fix the problem before the truck is loaded and ready for its next trip. Some argue that if there was a problem, it would be discovered during the next pre-trip but at that point you are dealing with a fully loaded trailer and a driver who is ready to depart. A post-trip inspection would have allowed you to repair the deficiency while it was back in the yard for the night.
Create drills/exercises
One way to help your drivers know what to look for during a pre-trip or post-trip inspection is to ask them to find problems you have created on one of your own trucks. Pick five things that an enforcement inspector will look for, rig the truck/trailer for a test, and test your drivers to see if hey can find the problems.
Some suggestions include popping the latch on the truck's fire extinguisher, creating a leak, removing a seal, disconnecting the horn, taking the registration out of the vehicle, etc. You can set these drills up as competitions and reward drivers who find the problems first. Take examples of problems from your own training materials to reinforce what you are already teaching drivers.
Pay attention to inspection focus
At various times throughout the year the Commercial Vehicle Safety Alliance (CVSA) conducts safety blitzes, specifically Brake Safety Week and Roadcheck. Obviously brakes are the focus of Brake Safety Week and each year there is a set focus for Roadcheck. It could be brakes, tires, lights, cargo securement, or any other areas. Pay attention to these announced safety events and make sure your drivers and technicians pay extra attention to those areas. It is also a good idea to be aware of what is happening with your local municipalities to make sure your maintenance efforts align with what they are looking for.
Look for the obvious
Tires, brakes and lighting are the top three equipment-related violations so make sure drivers know what to look for in those areas. Enforcement officers will notice things like missing or inappropriate mud flaps, lights that are not operating, a tire that is bald or has pieces hanging off of it. Once an inspector notices a problem, they are going to subject the driver to a full inspection where they might uncover other violations.
To help drivers identify problems, take photos to demonstrate something that could cause a violation. For example, do your drivers know what a chaffing brake line looks like? If not, a photo of one can help them understand and identify the problem.
Make sure documentation is in order
If you are subjected to an on- or off-site audit, make sure that your paperwork is in order and easily available to the inspector. Before the inspector comes to your location, you will get an official letter with a list of the documents you need to provide. However, even when they are at your office they will request additional items such as drivers' electronic logs, fuel receipts, trip sheets, etc. It is best to be able to email those to the inspector.
Gino Fontana is Vice President Operations Berkeley Division & Puerto Rico at Transervice Logistics Inc. His operational expertise emphasizes efficiency, cost savings, superior quality, people management skills and process improvement. He has more than 35 years' experience in the transportation and logistics industry with both operational and sales experience.