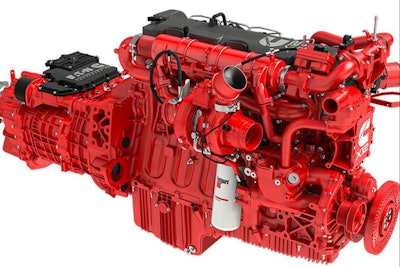 Cummins
Everyone wants to maximize fuel economy but getting there can be a challenge, particularly when it comes to balancing fuel consumption versus power needs.
"It's important to understand the unique end-user customer objectives at the point of order, such as intended application, the vehicle operating weight, gradeability requirements, expected cruise speed, and probably the most challenging is understanding their bias towards fuel economy versus performance," said Brent Maurer, Allison Transmission manager of customer integration engineering.
Maurer participated in a 2021 Work Truck Show virtual panel recently alongside Cummins powertrain TCO and consultancy leader Kris Ptasanik and Cummins medium duty on-highway product manager Derek Keisler.
[Related: Hino adding Cummins diesels to focus on battery electric]
Cummins and Allison have worked together for years tackling powertrain efficiency concerns and they were happy to do so again for the panel's topic on powertrain optimization.
First up? Know thy powertrain. Maurer recommends consulting the Allison Vocational Model Guide first to get more familiar with your powertrain options.
"Optimizing your powertrain requires a clear understanding of the options available," he said. "And the Alison Vocational Model Guide provides this.
"The guide contains transmission ratings for input torque, input power in vehicle weight, and list out vehicle controls functions that are available such as PTO drive interfaces, auto neutral auxiliary function, range inhibits, and many more," Maurer continued.
Cummins PowerSpec, which was released in a web-based version in October, offers some new feature calculators which can guide fleets on spec'ing a powertrain.
"If you want to know how the feature that you want to enable may impact the operation, you can use one of these calculators to get a little bit more of a graphical view," Ptasanik said. "Instead of just reading a feature description you can also build a powertrain spec.
"You can select what engine you want to use, what transmission you want to use, rear end ratio, and it'll show you what that looks like and where it lands in RPM ranges," Ptasanik continued. "And it'll also give you some alternate specs, some other things that you may want to consider based on your application and your desired output.There's also a way to get some additional support by emailing into the power spec web team."
[Related: International RH now available with new regional Allison transmission]
Keeping up with the latest powertrain options is critical. Allison built on the success of its fuel-saving feature FuelSense released in 2014 with FuelSense 2.0 with DynActive Shifting in 2018.
"FuelSense 2.0 Dynamic Shifting is a global technology solution that can deliver a fuel savings up to 6% while maintaining traditional Alison advantages of quality, reliability, durability and productivity," Maurer said.
"Dynamic shifting is a continuously variable method of shift scheduling and is the cornerstone of FuelSense 2.0. Instead of using shift point tables with defined points, dynamic shifting chooses the most efficient shift points based on the current environmental and vehicle conditions," Maurer said.
Fleets can turn to Allison DOC, a diagnostic tool, that can trend FuelSense 2.0 parameters and be used for traditional troubleshooting such as reading calibration and diagnostic information or recording snapshots, Maurer explained.
When it comes to increasing uptime, Keisler said Cummins worked to extend and align maintenance intervals for model year 2021 engines. For the B6.7 vocational application, "from an oil and filter change interval we've been able to bump up our duty cycle based numbers up to 30,000 miles or 1000 hours. Now that's up from 20,550 on our 2017 product fuel filter interval change, increased by a factor of 4X, which we were really excited about," Keisler said.
L9 oil and oil filter intervals were increased up to 50,000 miles or 1,500 hours, and the fuel filter change was bumped up to 50,000 miles or 1,500 hours. For the X12, numbers were pushed out to 75,000 miles or 1,500 hours on oil and filter change and 60,000 miles, or 1,500 hours for a fuel filter with a maintenance free crankcase ventilation system.
Keeping up with the latest fluid advancements can also improve powertrain efficiency.
"Allison TES668 is the next generation of transmission synthetic fluid that takes advantage of the latest developments in fluid formulation technology," Maurer said. "TES668 offers improved anti-wear performance and friction modifiers, a durability resulting in better shift quality under temperature variation, and overall enhanced transmission performance."
Allison TES668, which launched in January, is available through Petro Canada and Castrol. The fluid is reverse interchangeable with TES-295 and 389, "meaning it's okay to convert over your existing fleet," Maurer said.