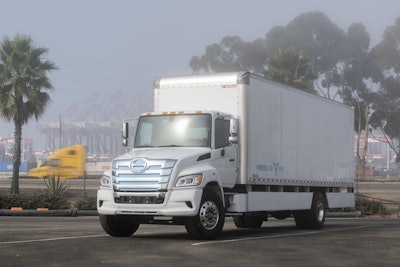 Hino Trucks is adding two Cummins engines to its medium- and heavy-duty Hino truck lineup, the company announced Friday at the virtual 2021 Work Truck Week.
Late last year, Hino said it would pause truck production through this summer at its North American plants "following challenges in the required U.S. engine certification testing process for new model years of the A09C, J08E, and J05E engines for North America."
With Cummins now handling the company's diesel platform, Hino Senior Vice President of Customer Experience Glenn Ellis said the Toyota subsidiary would "redirect engineering and other resources to accelerate the development of the battery electric vehicle portion of Project Z, the company's development path to zero emission vehicles."
The company previously announced plans to develop and produce a full range of Class 4 through 8 battery electric trucks by 2024, and is planning to begin low volume production of the BEV models in late 2022 before ramping to full production by the end of 2023.
Hino plans to make the Cummins B6.7 engine – the most popular diesel engine ever built by Cummins – available in its L Series trucks by the end of this year, initially offering ratings of 240 HP and 260 HP. The B6.7 will be paired with Allison's 2000 and 3000 Series transmissions.
The L Series was previously available with Hino's 230-260HP 8-liter J08 engine.
[Related: Hino targets 2021 for entrance into zero emissions segment with battery electric and hydrogen trucks]
The Cummins L9 engine will be available next year in Hino's XL Series model, initially in three ratings: 300 HP, 330 HP and 360 HP. The L9 can be paired with Allison's 3000 or 3500 Series transmission or an Eaton manual.
The XL Series previously was spec'd with Hino's AO9 9-liter engine, featuring 300 HP. Ratings of 330 HP and 360 HP were available options.
Hino will begin production of Cummins powered trucks at its West Virginia and Woodstock plant in October using engines built by Cummins at its North Carolina plant.
Hino and Cummins also expect to evaluate additional opportunities to collaborate on powertrain strategies in the future.
Cummins last month announced a similar engine supplier deal with Isuzu, adding the Cummins B6.7 to the Class 7 F-Series truck for the 2022 model year.
Also in February, Daimler Truck AG and Cummins announced the companies have signed a memorandum of understanding establishing a global strategic partnership for the development of medium-duty engines. Under the terms of the agreement joint venture will initially work toward meeting Euro VII 2025 emission standards, which is expected to be Europe's final step in tightening emissions regulations as the continent works toward phasing out fossil fuels entirely.
Stateside, the implications will be that the same platform replace the Detroit DD8 and DD5 engines later this decade as available powerplants in North American trucks. Current Greenhouse Gas Phase II regulations governing heavy truck emissions in the U.S. are already in place through model year 2027.