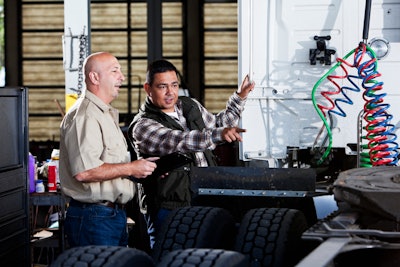 Companies that choose to operate their own trucking fleet do so often because they seek control over customer service and operating costs.
Additionally, and most recently, they also want to avoid capacity constraints that arise in the for-hire market segment.
The National Private Truck Council says that there are more than two million vehicles operating under a private fleet umbrella, encompassing about 53% of all trucks registered in the U.S. For these companies, trucking is not their core business. Put another way, trucking is more likely to be viewed as a cost center versus a revenue generator. As such, these companies want to keep the cost of shipping their goods as low as possible.
A quality maintenance program is an integral part of keeping costs down to ensure that companies get an optimal return on their investment in transportation assets. Companies can choose to handle maintenance and repair in their internal shops, but that requires an additional investment in tools, equipment, inventory, personnel and training.
The trucking industry currently faces not only a driver shortage but also a shortage of qualified technicians. In fact, the U.S. Bureau of Labor Statistics estimated that by next year, 67,000 technicians will be needed to replace retired workers, and 75,000 new mechanics must be added to meet additional demand.
In addition, trucking is in the midst of a technology upheaval with new developments occurring at a dizzying pace. Keeping technicians trained to work on the high-tech vehicles of today can be daunting. That does not even touch on the cost of having the right equipment to be able to diagnose today's sophisticated trucks.
One way for private fleets to avoid some of these maintenance and repair-related headaches is to outsource its maintenance and repair work by collaborating with a specialist that has the experience, technology and geographic scale to handle the fleet's maintenance needs with a top-notch contract maintenance solution.
Many private fleets are under the impression that contract maintenance is one-size-fits-all, and that is not true. A successful contract maintenance program is one where the service provider is fully knowledgeable of not only the customer's truck fleet, but also its business operation and delivery requirements. The provider then – as a vested partner in the fleet's performance – tailors a contract maintenance program, leveraging highly trained technicians and diagnostic equipment to specifically to meet the needs of the customer.
A variety of additional services can be included in a contract maintenance agreement, including vehicle specification assistance, replacement vehicles, washing, fuel tax reporting and other administrative services. A robust maintenance reporting system neatly ties all of this together to provide 100% visibility to key performance indicators and real-time as well as historical fleet costs.
A good contract maintenance provider knows that the nucleus of truck maintenance is always a structured, rigid preventive maintenance program. Studies have consistently proven the correlation of timely completed PMs and lower total cost of operation (TCO). From there, the provider's national service and supplier network can handle any maintenance issues that may arise around the clock, 365 days a year.
When considering a move to contract maintenance, the private fleet manager needs to share details of their fleet's operation with the outside service provider so that the service provider has full knowledge of the carrier's needs and can tailor a program specifically for that fleet. Do not partner with any service provider that offers you a cookie cutter approach to maintenance and repair. Even though you are turning over maintenance and repair to someone else, you still maintain control over how the work is performed and can even stipulate which brands of products are acceptable for various repairs.
Structured properly, a contract maintenance program can be a major asset for the private fleet operator, keeping assets on the road and reducing TCO. The key to success is choosing the right firm with whom to partner.
Joe Gallick is Senior Vice President of Sales, NationaLease is an experienced supply chain executive and spokesperson in the logistics provider industry. Prior to joining NationaLease, Gallick served as the Senior Vice President of Penske Logistics for 13 years following four years as the Vice President National Accounts for Penske Truck Leasing. He is a graduate of Montclair State University and currently serves as a liaison with the Penn State University Center for Supply Chain Research. He was the 2010 recipient of the Penn State University Robert D. Pashek Award for his contributions to the logistics and transportation fields, as well as a 2015 Pros to Know recipient in the Supply and Demand Chain Executive publishing. He is also a member of the Council of Supply Chain Management Professionals, Truck Rental and Leasing Association, as well as various industry trade organizations.