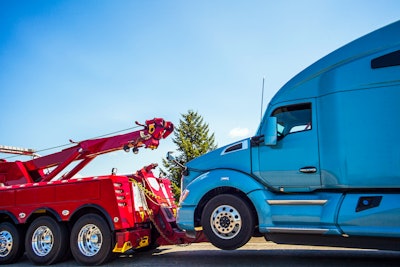 Fleets are getting a little good news with a little bad when it comes to maintenance. Incidents of unexpected roadside breakdowns are falling, but repair costs are climbing.
Incidents of unscheduled roadside maintenance are declining, according to the latest results of the Technology & Maintenance Council and FleetNet America Vertical Benchmarking Program. The findings were released Sunday at the Technology and Maintenance Council Fall Meeting & Transportation Technology Exhibition, In Cleveland.
According to the survey, which looks the frequency of unscheduled roadside breakdowns by VMRS code during the second quarter of 2021, fleets averaged 31,638 miles of operation between unscheduled road repairs – up 7.2% from 29,506 in the first quarter of 2021.Truckload carriers averaged 23,769 miles between breakdowns, an 8.8% increase in miles from the previous quarter.
"The ongoing series demonstrates that fleets can improve their breakdown performance if they follow the lead of best-in-class fleets in each of the vocational segments tracked," said TMC Executive Director Robert Braswell.
The time between breakdowns for LTL carriers increased to 46,186 miles in the second quarter from 44,380 in the first quarter of 2021. The tank sector saw a slight improvement, running 18,241 miles in the second quarter, up from 17,420 in the previous quarter.
"The data tells us that if, for example, the truckload carriers running the average miles between breakdowns could reach best-in-class performance, they would increase their miles between breakdowns by 64%," said Emily Hurst, manager of data and analytics at FleetNet America, "and that would result in overall lower costs."
The data indicates, TMC and FleetNet said, that the maintenance practices of the best-in-class fleets in each vertical resulted in lower costs for those fleets. For example, the leading fleet in the tank vertical operated more than twice as many miles between roadside breakdowns than the average for the tank vertical.
Understanding the frequency of roadside failures, and how a fleet's experience compares to similar operations, the groups said, can help maintenance leaders identify opportunities to improve their operations and reduce their maintenance expense.
The TMC/FleetNet Vertical Benchmarking Program is a benefit for TMC fleet members. In addition to the executive summary, which is available to TMC members, fleets that participate by sharing their data are provided an analytic tool that allows them to drill into their data, comparing it to the industry average.
Cost of repair climbing
A different report also released Sunday – one compiled by TMC and Decisiv Inc. – reported that costs for parts and labor for repairs rose over the first six months of the year.
According to the Decisiv/TMC North American Service Event Benchmark Report, labor costs for repair and maintenance increased 2.6% between the first and second quarters in 2021 and overall parts costs increased by 2.8%. In that same period, parts costs for tires increased by 10.7% and transmissions part costs rose 9%.
Decisiv President and CEO Dick Hyatt noted increases in costs for parts and labor reflect the changes taking place in the North American economy. "Ongoing economic growth has led to a rise in freight volume and demand for carrying capacity," he said. "That is also being driven higher by the need to replenish supply chains that have been depleted due to manufacturing and distribution shutdowns during the pandemic. For fleets, that activity has increased vehicle mileage as well as meant the addition of more trucks, both of which drive up service activity.
Higher parts prices may have contributed as well, Hyatt said, but in all cases "we do not see a drop in efficiency and productivity taking place among the nation's fleet maintenance or service provider operations. They are continually striving to maintain the highest possible levels of asset performance and uptime."
Focusing on parts and labor pricing year-over-year revealed that the three most significant changes between Q2 2020 and Q2 2021 were in lighting systems, which were up 17.4%. Transmissions costs rose 16.4% and brake costs increased 11.1%.
The Decisiv/TMC report covers power unit parts and labor costs in the nine top Vehicle Maintenance Reporting System (VMRS) System Level Code categories, including brakes, steering, tires, transmissions, electrical, charging, lighting, exhaust and engines.
The Decisiv/TMC North American Service Event Benchmark reports are made possible because of the rapidly growing amount of data being collected on service and repair events for the more than 7 million commercial assets operating across the U.S. and Canada that are being serviced on Decisiv's SRM platform. The summaries are compiled from more than 600,000 monthly service maintenance and repair operations conducted across nearly 5,000 service locations.