Verizon Connect
The following was published in CCJ's Equipment Maintenance Toolkit, 8th edition, sponsored by Valvoline Heavy Duty. CCJ's Equipment Maintenance Toolkit is a complementary industry resource, courtesy of our partnership with Valvoline Heavy Duty. You can download the entire Toolkit here.
Vehicle manufacturers are backlogged into 2023 for truck and trailer orders. A bottleneck of high demand, a global shortage of microchips and other materials has made it difficult for many fleets to part with existing assets through trade-ins or selling used equipment.
Holding onto used equipment longer could lead to unplanned maintenance events that steamroll budgets. Predicting system and component failures in advance has become even more important for keeping assets on the road and costs in line.
Download CCJ's Equipment Maintenance Toolkit
CCJ's Equipment Maintenance Toolkit is one of the most comprehensive publications that CCJ publishes to assist fleet maintenance managers and individuals responsible for commercial vehicle maintenance and equipment purchasing.
Brought to you by Valvoline, CCJ's Equipment Maintenance Toolkit offers useful information for fleet maintenance managers, including:
The business of truck maintenance
Vehicle maintenance
Maintenance technology
Parts organization and inventory management
Transmission maintenance
Resources and references
Many ELD and fleet telematics systems can plug into the vehicle's electronics and engine control module (ECM) to report operating data and diagnostic trouble codes. Truck manufacturers also have connected vehicle technology that includes remote diagnostics services that give fleets real-time information to make decisions about when and where to service trucks.
Driving behaviors are another important factor to monitor to predict vehicle health because there is a direct correlation between the safest drivers and how often their vehicles need maintenance, explained Kevin Aries, global product success at Verizon Connect.
Beyond safety reasons, fleets want to avoid crashes to cut downtime and lost revenue from out-of-service assets. Owners and managers are taking a closer look at driver safety metrics and implementing cameras to improve training programs to not only improve safety but also protect the health of their vehicles, Aries said.
To understand the full story of vehicle maintenance data, fleets are looking to put engine and vehicle data into context with driving behaviors, fuel economy, routes, schedules and other related data, he said.
"At the end of the day, [fleets] want safe vehicles on the road no matter how it gets done," he said. "There is more to fleet management than simply breaking and fixing things."
Proper use of Driver Vehicle Inspection Reports (DVIR) is also important to catch maintenance issues early, he noted.
For preventative maintenance, Verizon Connect has notifications that fleets can set up based on mileage, engine hours and other parameters for oil changes, tire rotations and other events. Its ELD and fleet management system also has DVIRs and can integrate telematics data with fleet maintenance software providers like Fleetio to go deeper into predictive maintenance, he said.
A new way to monitor vehicle health
OEMs are the foremost experts in vehicle and engine data, but data-driven products are catching up in the aftermarket with unique capabilities for monitoring vehicle health.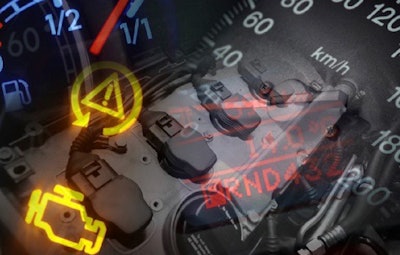 An Israeli-based company, SafeRide, has turned its expertise in developing algorithms for detecting cyberattacks toward identifying malfunctions, anomalies and the root causes of performance degradations in vehicles. The company's technology can also estimate the remaining useful life of various components, said Kyle Williams, marketing director.
The company's main product, vInsight, is a vehicle management platform that uses artificial intelligence and deep learning, he explained. It has a software component that is embedded in the control modules of vehicles or loaded onto a gateway that is connected to the vehicle's data bus, such as a third-party telematics device using open APIs, he said.
Instead of relying on pre-defined diagnostic trouble codes, vInsight uses the real-time signals sent from vehicle and engine systems to learn how they should operate under normal circumstances, thus detecting when something begins to go awry.
As an example, a vacuum leak could develop in the air intake from a crack in the hose. This may not trigger a diagnostic trouble code, but the vInsight software could detect a degradation in engine performance due to a slightly lower-than-normal pressure that is causing a reduction in fuel efficiency, Williams said.
SafeRide's platform is designed to meet the SAE JA6268 standards that go beyond the basic diagnostic trouble codes in the J1939 standard to define how components and subsystems should be integrated into vehicle and platform-level applications that monitor health, he noted.