Trucking news and briefs for Friday, Sept. 17, 2021:
Mack intros new optional maintenance program for customers
Mack Trucks announced this week the new Mack Premium Service Agreement, a comprehensive maintenance program that simplifies maintenance and helps increase uptime and improve cost of ownership for Mack Anthem, Pinnacle, Granite, TerraPro and LR owners.
The optional Mack Premium Service Agreement may be added to new truck purchases or added to trucks in service, prior to their first service interval.
The service agreement replaces Mack's existing maintenance plans and streamlines maintenance management with a single program that takes the burden of routine maintenance and preventative maintenance off the truck owner and transfers it to the Mack dealer network.
Mack customers can tailor the plans to the length of their ownership cycle and to the expected operating duty conditions of the truck – normal duty or heavy duty – optimizing maintenance intervals based on duty cycle.
Flexible payment options allow customers to pay on a recurring monthly basis or up front at the time of their truck purchase, billed directly or through their dealer.
The Mack Premium Service Agreement includes a range of services to promote proper vehicle maintenance and peak performance, including:
All aftertreatment maintenance and Diesel Particulate Filter (DPF) cleaning
All scheduled transmission and scheduled axle maintenance
All scheduled engine maintenance and valve adjustments
All scheduled chassis maintenance
Alternator coverage
Regular 74-point inspection and oil analysis
Customers may also add optional services to further customize their plan to fit the specific needs of their operations and duty cycles.
Fleet buys first two Peterbilt 579EVs in Canada
Kruger Energy L.P. announced Thursday that it has purchased two battery-electric trucks that will be among the first of their kind to hit the road in Canada.
Kruger ordered Canada's first two Peterbilt 579EV battery-electric trucks, which the company plans to put into operation by the end of 2021 carrying goods between Kruger facilities in Quebec.
By opting for electric transportation, Kruger aims to reduce greenhouse gas emissions as part of its ongoing efforts to reduce its environmental footprint. As a result of purchasing its first two electric trucks manufactured by Peterbilt, the company expects a reduction of 380 tons of CO2 per year, which is equivalent to removing about 90 passenger cars from our roads. In addition to the positive impact on air quality, these zero-emission trucks will also help reduce noise pollution thanks to their quiet all-electric powertrain.
This project is a first for Kruger Energy which specializes in the development, construction and management of renewable energy power plants in Canada and the U.S.
Peterbilt delivers first production Model 536 medium-duty truck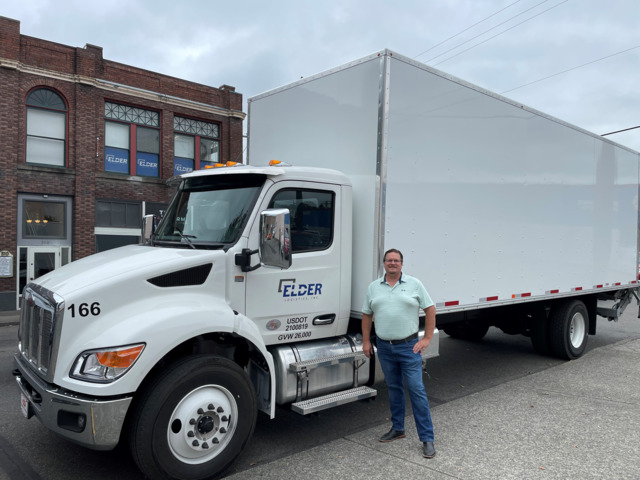 Elder Logistics received the first production unit of Peterbilt's new medium-duty Model 536.Elder Logistics received the first production medium-duty Model 536 from Peterbilt this week.
Based in the Pacific Northwest, Elder Logistics specializes in white glove, high volume and time critical logistic services.
The new Model 536 embodies Peterbilt's vision of a modern medium-duty truck purposefully designed for Class 6 applications. The 2.1m wide cab is quiet and provides a comfortable work environment for up to 3 people. Elder Logistics' Model 536 is configured with a Paccar PX-7 engine and the all-new Paccar TX-8 transmission, an eight-speed automatic that offers smooth shifting, maximum fuel efficiency and minimal maintenance.