Trucking news and briefs for Thursday, June 23, 2022:
Meritor announces new spec tool for Driveshaft on Demand program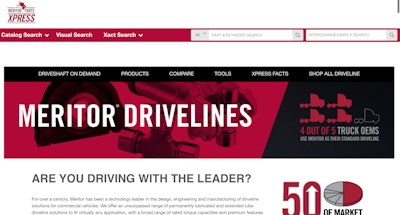 Meritor has launched online tool to streamline its 24-hour Driveshaft on Demand (DOD) program, an update the company said will reduce the time it takes to report and replace customer driveshaft orders compared to the email-based submission process.
The new tool is accessible to registered MeritorPartsXpress.com users on any device including smartphones, tablets and laptops, and includes high-quality images, step-by-step instructions, and instructional videos on how to identify and specify a driveshaft, even when a part number is not readily available.
The current email-based order submission process will be phased out. Original equipment dealers and warehouse distributors can now obtain the desired driveshaft directly through the web platform. Customers will still be able to order replacement or customizable driveshafts at competitive prices with same-day or next-day shipping arrangements, eliminating long lead times.
Hutcheson recommended for confirmation to lead FMCSA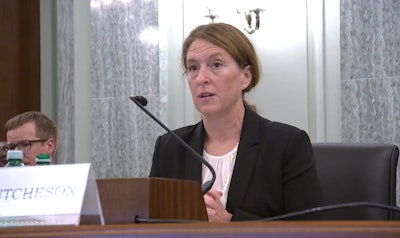 The Senate Commerce, Science and Transportation Committee on Wednesday recommended that Federal Motor Carrier Safety Administration acting administrator Robin Hutcheson be passed to the Senate for full confirmation as the agency's full-time administrator.
Hutcheson went before the Senate Committee on Commerce, Science, and Transportation earlier this month, taking the first step toward potential confirmation as the agency's first full-time boss in almost three years. Transportation Secretary Pete Buttigieg appointed Hutcheson Deputy Administrator in late January following the departure of Meera Joshi. As deputy administrator, Hutcheson also serves as the Acting Administrator, and President Biden nominated her for the role of Administrator in April. FMCSA hasn't had a full-time administrator since Ray Martinez, who stepped down from the post in October 2019. The job has since been held by Jim Mullen, Wiley Deck, Joshi and Hutcheson, each as acting administrator.
Hutcheson has the support of all trucking's major stakeholder groups, including the American Trucking Associations, the Owner-Operator Independent Drivers Association (OOIDA), the Truckload Carriers Association and the Commercial Vehicle Safety Alliance (CVSA).
Nearly 1,300 parked with brake violations in unannounced check
Nearly 1,300 commercial motor vehicles were removed from service with brake-related critical vehicle inspection item violations during an unannounced Brake Safety Day inspection blitz in April, the Commercial Vehicle Safety Alliance (CVSA) announced Wednesday – 14.1% of the 9,132 commercial motor vehicles inspected April 27 across 46 jurisdictions in Canada and the U.S.
[Related: Download CCJ's updated Air Brake Book here. It's a free resource guide for all things brake-related]
The vast majority of inspections (8,750) took place in the U.S., resulting in 1,228 violations. In addition, inspectors compiled and reported brake hose/tubing violation statistics, which was the focus area for this year's Brake Safety Day. There were 1,534 brake hose/tubing violations.
CVSA's Brake Safety Week will be held Aug. 21-27, and the emphasis of that campaign is brake hose/tubing chafing violations.