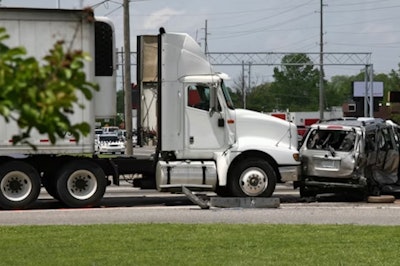 While experts point out that fatal truck crashes have significantly dropped through the years thanks largely to vehicle design changes and advanced driver assistance systems, there's still plenty of room for improvement among drivers and equipment manufacturers.
The fatality rate in passenger vehicles involved in collisions with large trucks dropped roughly 71% over the past five decades, according to Raul Arbelaez, vice president of the Vehicle Research Center at the Insurance Institute for Highway Safety. Truck drivers are safer too.
"The rate of fatalities in large truck crashes by vehicle miles traveled has fallen over time for both large truck occupants and passenger vehicle occupants," Arbelaez told CCJ. "In 1975, 2,757 passenger vehicle occupants died in crashes involving large trucks, at a rate of 3.39 deaths per 100 million truck miles traveled. In 2021, 3,217 passenger vehicle occupant deaths occurred at a rate of 0.98 per 100 million truck miles traveled."
In addition to safer vehicle designs, Arbelaez credits increased ADAS features, which initially rolled out for luxury cars and eventually became available in large trucks where the results have been impressive.
"IIHS has studied the effectiveness of forward collision warning (FCW) and automatic emergency braking (AEB) technologies in large trucks," Arbelaez said. "In a 2021 study, we found that trucks equipped with FCW had 44% fewer rear-end crashes than unequipped vehicles. Trucks with AEB had 41% fewer rear-end crashes. The crashes that did occur often were at lower speeds for trucks equipped with either technology."
But for all the safety improvements realized through increased ADAS adoption, is personal device use among drivers possibly negating some of those gains?
"Put simply, yes," said Joan Woodward, executive vice president of public policy for Travelers and president of The Travelers Institute. "Automatic braking and collision warnings may result in fewer crashes. Many motorists think that today's automotive technology gives them the green light to use their personal device or engage in the talk-to-text feature while driving, and that's not okay. That's why we encourage drivers to put their phones away and keep their eyes and mind on the road so they can have a distraction-free ride."
[Related: DOT moving ahead with mandated automated emergency braking]
Woodward said lax driving habits adopted during the COVID-19 pandemic continue to be a problem.
"While vehicle traffic fell during the pandemic, distracted driving and speeding surged because many motorists felt that it was safe to engage in riskier driving behaviors," Woodward said. "Even though we are back to pre-pandemic traffic levels, drivers have not let up on those dangerous habits. That's why we work to empower drivers to adopt safe behaviors on the road and encourage others to do the same."
Safer driving conditions ultimately lead to accident reductions, which Arbelaez said is especially important since large trucks weighing 20 to 30 times as much as passenger vehicles can have devastating effects on lives and property.
Electric trucks and cars weigh even more than their internal combustion counterparts, which has not gone unnoticed at IIHS. However, given the small number of electric commercial vehicles on the road, the focus has been on electric passenger vehicles.
"At this stage, we're certainly concerned about the weight of electric passenger vehicles. Weight disparities have always existed on our roads, but heavier electric passenger vehicles mean that more multi-vehicle crashes could involve significant weight differences," Arbelaez said. "That means occupants of lighter vehicles will be subjected to higher forces in crashes, potentially resulting in more injuries and deaths. This is a topic that IIHS is closely monitoring."
Honing in on underride crashes
IIHS also continues to monitor the effectiveness of crash guards on both the rear and the sides of trailers. While many trailer manufacturers have addressed guard impact concerns raised by IIHS, there's still plenty of older equipment on the road which can pose greater risks.
"Truck underride is another major safety concern for passenger vehicles," Arbelaez said. "IIHS crash tests have found that many rear underride guards that meet the U.S. standard fail in relatively low-speed, rear-end crashes. When that happens, the passenger vehicle slides under the rear of the truck, turning a survivable crash into a catastrophic one. Many trailer manufacturers have responded to IIHS crash tests and voluntarily strengthened their guards to hold up better in a variety of crash configurations."
The National Highway Traffic Safety Administration in April published advance notice of proposed rulemaking (ANPRM), signaling it will forge ahead with rulemaking that would require trailers be equipped with side underride guards. Even though trailers are not yet required to have underride guards on the sides of trailers, having them can mean the difference between life and death.
"IIHS testing of an aftermarket side guard has demonstrated the benefit of these guards," Arbelaez said. "Equipping all trailers on the road with side guards could save hundreds of lives each year."
[Related: NHTSA forging ahead with side impact guard requirement]
For an even safer ride, OEMs should look beyond federal regulations.
"Rear underride guards are incredibly important pieces of safety equipment, but the federal standard allows for guards that can fail in relatively low-speed crashes," Arbelaez said. "Think about it this way: Automakers have dramatically improved vehicle safety in recent decades with stronger structures and better restraint systems. But when a guard doesn't hold up, those safety features are useless, because the bottom of the truck trailer hits the passenger vehicle in the windshield. The guard needs to do its job so that crumple zones, airbags and seatbelts can do their jobs."
Arbelaez said manufacturers should look to IIHS' Toughguard criteria which exceed federal guidelines. Impact guards that meet Toughguard standards will prevent vehicle underride following impact at 35 mph or below. Trailer manufacturers that pass testing receive a Toughguard award. So far, nine manufacturers have been awarded.
Maintenance and accountability
Keeping trucks in safe working order can go a long way in preventing accidents. This might mean swapping out headlights for increased visibility.
"About half of motor vehicle crash deaths occur at night or at dawn or dusk, even though most travel occurs during the daylight hours," Arbelaez said. "Relatively empty roads may encourage faster driving, which makes crashes more likely. Reduced visibility is also a factor, which means headlights play a critical role in keeping people safe.
Arbelaez said IIHS has been pushing for better headlights on passenger vehicles through a ratings program for about a decade.
"Vehicle headlights are getting significantly better, and our research has found that vehicles with headlights rated 'good' in our evaluations have 19% fewer nighttime crashes than those with 'poor' headlights," he said.
Brake maintenance plays an even bigger role.
"Defective equipment increases the risk of truck crashes," Arbelaez said. "A recent analysis of truck crashes in North Carolina, for example, found that brake defects were present in 42% of crash-involved trucks that were investigated. The same analysis showed that brake defects serious enough to put the truck out of service were associated with a 214% increase in crash risk. Truck maintenance should be taken seriously, and trucks must be immediately taken out of service when these issues are discovered."
Woodward said Travelers can visit fleet locations to help with safety assessments. There are also opportunities online.
"At the Travelers Institute, we host programming that highlights trends within the trucking industry," Woodward said. "Last fall, we hosted a webinar featuring experts from the American Trucking Associations, Travelers and Northland Insurance and provided a thorough review of today's latest opportunities and headwinds in trucking. The speakers explored technology-driven safety advancements that protect drivers on the road, as well as the labor market and supply chain issues. All of these resources can be found on our website."