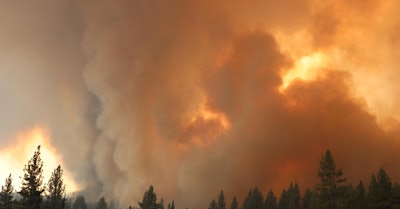 U.S. Department of the Interior
Increased particulate matter from wildfires in Canada can not only impact personal health, experts say it can also impede vehicle performance if proper air filter management is not maintained.
Wildfire smoke from Canada made it to several parts of the U.S. this past week, including major cities along the East Coast and the Great Lakes where the Centers for Disease Control reported hazardous air conditions. The Canadian Interagency Forest Fire Centre reported 422 active fires across the country on Saturday, which is 22 more than Wednesday with 219 being termed out of control.
To help lower health risks from wildfire smoke, some employers required workers to stay home last week while others weren't so lucky, like truck and van drivers who continued to travel through smoky air that transformed the skyline into an orange apocalyptic scene.
While there are no federal guidelines requiring employers to protect workers from hazardous air, California has laws requiring companies to provide protective gear for workers who are "exposed to wildfire smoke" or when "the Air Quality Index (current AQI) for PM2.5 is 151 or greater." Oregon and Washington State have similar laws.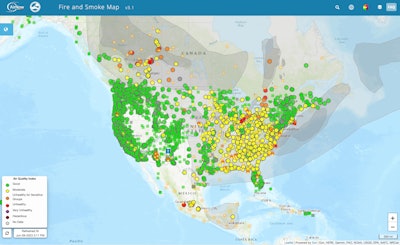 PM2.5 is particulate matter that is two-and-a-half microns or less in width, which is small enough to be deeply inhaled where it can "irritate the lungs, cause inflammation, alter immune functions and increase susceptibility to respiratory infections, likely including COVID-19" the Centers for Disease Control reports on its website.
The CDC recommends using an N95 respirator to help reduce the risks associated from inhaling harmful wildfire smoke.
Cabin air filters in trucks and other vehicles can also help lower exposure. Mack and Ram responded to our Canadian wildfire inquiry with specific details on cabin filter performance.
The Pure Mack cabin air filter is designed to remove up to 98% of particles including those "finer than a human hair" and contain an activated carbon layer to prevent unpleasant odors and harmful gasses such as hydrocarbons, sulfur dioxide, nitrogen oxides and ozone from entering the cab.
The Ram Clean Air System introduced for model year 2022 trucks and vans "filters out 95% of airborne particulates" including "pollen, allergens and bacteria."
So far we could only find luxury automakers that offer High Efficiency Particulate Air (HEPA) filters which according to the EPA can "theoretically remove at least 99.97% of dust, pollen, mold, bacteria, and any airborne particles with a size of 0.3 microns."
Daimler Trucks North America noted that though a HEPA filter can't be spec'd for their trucks, that doesn't prevent fleets from getting one.
"There are many aftermarket options for cabin filters that include HEPA options but that is not what is installed at the factory and it is recommended to exchange filters every 6 months so a factory option is always going to be short-lived," said Michael Young, DTNA's marketing engine specialist.
"It is also a recommended practice to utilize the recirculation feature of the HVAC system to prevent outside air from being pulled into the cabin and service the air filters as recommended after driving in areas where it is likely to have been high amounts of debris," Young continued.
Whatever air filtration system your vehicle has, when it's exposed to additional particulates like those found in wildfire smoke, it's best to step up maintenance.
"Absolutely, cabin air filters should be checked/changed more frequently," said air quality expert Dr. Jeffrey Siegel who holds the Bahen/Tanenbaum Chair in Civil Engineering at the University of Toronto. "HEPA filters are a little more complicated. I am not sure that the systems in trucks can accommodate them and there can be a balance between a high efficiency filter like a HEPA and reducing air flow in some systems."
To help maintain healthy air in the cabin, Siegel recommends the following:
Use the highest efficiency filter you can and run the system in recirculation mode.

Check/change the filter frequently
Wear a well-fitted respirator type mask (e.g., N95) whenever you are outside and consider wearing it while driving too.
Consider a plug-in HEPA filter. Given the small space of a cabin, it doesn't need to have a high clean air delivery rate (CADR). Some models are intended for vehicles (e.g., 12-volt systems) but avoid ion generators and other unproven air cleaning technologies.
Look at the air quality report in planning your route/stopping points
Siegel added that while using a respirator and HEPA filter is good advice for everyone it's "critical for anyone who has respiratory or other health issues that are made worse by air pollution."
Keep a closer eye on engine air filters
Some readers may be old enough to recall the 1980 Mount St. Helen's eruption in Washington near Portland, Oregon, which spread volcanic ash over several states and hastened the demise of countless engine air filters.
While particulates from the Canadian wildfires are not as large, they can still shorten the life of an air filter.
"If there's a lot of particulate matter, I'm sure it will have a shortened life," said Randy Allen, service engineer at Baldwin Filters. "If you get it plugged enough it's going to start reducing your fuel economy and reduce your horsepower."
Allen recommended keeping closer tabs on the air filter. "On a Class 8 truck they should have restriction gauges to tell them when they're plugged," he said.
Cummins heavy duty market strategy leader Derek Kiesler said an engine will not experience any performance issues in areas with higher PM levels so long as sound maintenance practices are maintained. That also applies to areas with excessive dust kicked up by high winds or from driving on dirt roads.
"Depending on severity of PM in the air for the impacted area it is possible that the air filter could require maintenance sooner than normal at this time," Field said. "We do promote regular maintenance of the air filter and it is important to regularly check the filter and perform necessary maintenance as needed."