Trucking news and briefs for Tuesday, June 27, 2023:
NHTSA: Estimated highway fatalities down in first quarter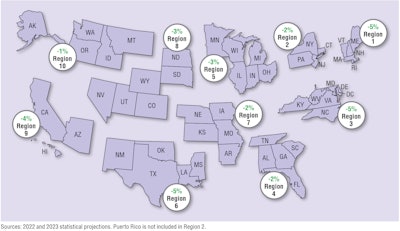 The National Highway Traffic Safety Administration in its first-quarter update is projecting traffic fatalities for the first quarter of 2023 are down about 3.3% compared to the same quarter in 2022. NHTSA is estimating 9,330 people died on U.S. roadways in the first quarter this year.
The first quarter of 2023 represents the fourth straight quarterly decline in fatalities after seven consecutive quarters of year-over-year increases in fatalities, beginning with the third quarter of 2020, NHTSA said.
Preliminary data reported by the Federal Highway Administration show that vehicle miles traveled (VMT) in the first three months of 2023 increased by about 19.3 billion miles, or about a 2.6% increase. The fatality rate for the first quarter of 2023 decreased to 1.24 fatalities per 100 million VMT, down from the projected rate of 1.32 fatalities per 100 million VMT in the first quarter of 2022.
For the NHTSA Regional differences, all 10 regions are estimated to have had decreases in fatalities and the fatality rate per 100 million miles in the first quarter this year compared to a year ago. Additionally, 32 states are projected to have had decreases in fatalities, the agency said.
The actual counts for 2022 and 2023 and the ensuing percentage changes from 2022 to 2023 will be further revised as 2022 numbers are finalized this year and 2023 numbers are finalized next year. The estimates will be further refined, NHTSA said, when the projections for the first half of 2023 are released in late September.
NHTSA's quarterly fatality estimate reports do not take into account the vehicle types involved in fatal crashes.
[Related: Trucking can be, and needs to be, safer]
Nikola suspects foul play in fire at HQ
Nikola Motor Company said five battery-electric trucks were burned at its Phoenix headquarters Friday.
In a post to LinkedIn, the company said foul play is suspected because a vehicle was seen in the area just prior to the incident. It said an investigation is underway.
Nikola spokesperson Nicole Rose said the company does not anticipate any production issues resulting from the truck fires.
The company announced layoffs earlier this month, both in Arizona and in Europe. Around 120 employees based in Phoenix and Coolidge, Arizona, were affected, along with 150 team members in Europe. Nikola said it supported those affected employees with transition assistance.
[Related: Everything you need to know about Nikola's electric semi]
Ryder opens new used truck dealership near Boston
Ryder System (CCJ Top 250, No. 14) has opened a new used vehicle sales center located in Norwood, Massachusetts, along Route 1 near I-93 and I-95.
The new used vehicle location will serve the Boston South area and is located in the region's "Auto Mile," which represents a highly concentrated area for automotive, construction and commercial activity. Located between Boston and Providence, Ryder's Norwood operation is intended to absorb growing industry demand with a 1,100 square foot facility.
Last year, Ryder opened new centers in Ohio, Alabama, California and Washington to meet customer needs for reliable and efficient fleet management solutions.
Ryder's used vehicle offerings aim to address the limited market for affordable, diverse and trusted fleet management solutions that meet customer demands. Ryder has more than 65 locations across North America, with more than 5,000 pre-owned tractors, trucks, vans, and trailers in inventory for customers to choose from.
Stoughton recalls container chassis over wheel issue
Stoughton Trailers is recalling approximately 1,152 model year 2023-'24 Intermodal container chassis, according to National Highway Traffic Safety Administration documents, because the wheel lug nuts are improperly tightened.
The recall states that improperly tightened lug nuts can allow the wheel to detach, increasing the risk of a crash.
Stoughton will inspect and tighten the lug nuts, as necessary, free of charge. Owner notification letters are expected to be mailed June 26. Owners can contact Stoughton customer service at 1-608-873-2580. NHTSA's recall number is 23V-426.
Great Dane recalling 2,400 trailers with Holland tire pressure regulation systems
Great Dane Trailers is recalling approximately 2,426 model year 2024 Champion and Everest trailers equipped with Holland's Tire Pilot Plus (TPP) tire pressure regulation system.
According to the recall, all 8 tires may experience a loss of tire pressure while driving faster than 45 mph. The condition exists on Tire Pilot Plus models with electronic control units, which were first supplied to Great Dane beginning in December 2022. TPP units that are controlled by a manual pressure adjustment feature are not impacted by the defect.
As an interim action, Great Dane will instruct owners to disable the Tire Pilot Plus system. The final remedy is currently under development. Owner notification letters are expected to be mailed Aug. 8. Owners can contact Great Dane customer service at 1-877-369-3493. NHTSA's recall number is 23V-427.