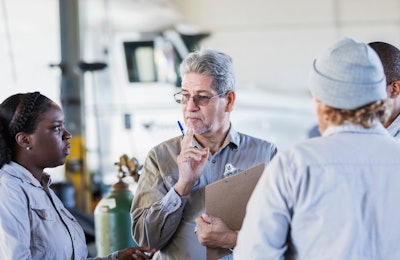 The workdays of fleet maintenance managers are riddled with exceptions, from running out of parts inventory to managing roadside breakdowns and other unexpected events.
Exceptions that repeat themselves too often become industry-wide pain points.
Looking through a 35-year experiential lens, Bruce Stockton sees three maintenance pain points that have all been accelerated by the COVID-19 pandemic.
Stockton is director of maintenance at Paul Transportation, a Tulsa, OK-based flatbed carrier with 200 trucks, and a fleet consultant as the principal of Stockton Solutions.
1. Keeping in-house talent on par with dealerships
The complexity of today's vehicles and engines can baffle even the most experienced fleet maintenance executives and technicians, particularly challenges related to emission aftertreatment systems.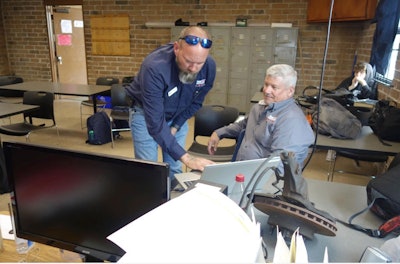 Complexity of repairs make it difficult for fleet shops to keep technician skills on par with dealerships. Fleets generally do not have technicians work on the most difficult types of repairs on a daily basis, unlike dealerships. This creates an imbalance of work for technicians that negatively impacts the level of training and experience that fleets can provide, Stockton said.
Dealers also have difficulties keeping up with the complexity of repairs, and in many cases fleets end up paying as much, if not more, to get a proper diagnosis for a repair than what it actually costs for parts and labor. At times this can make repair costs almost unbearable, he said.
Original equipment manufacturers (OEMs) and aftermarket suppliers have been trying to address this problem, but transferring information and experience to fleets has been difficult the past year from COVID-19 limiting opportunities to conduct on-site and hands-on technician training.
2. Consistently inconsistent repair costs
The complexity of vehicles has caused fleets to outsource a larger share of their repair and warranty work. This is creating surplus demand for third-party repair work and price increases.
Fleets have traditionally had pricing agreements with vendors based on standard repair times (SRTs), which maintenance managers use to make decisions about what work to keep in-house versus outsource.
[Related: Freight volume drop presents unique maintenance challenge]
Stockton has been seeing more third party repairs exceed the SRTs, and fleets are getting charged extra. If a clutch replacement has an SRT of 10 hours, for example, a dealership or service center might bill for 16 hours should the repair take longer than expected due to the diagnostics time involved.
On the other hand, if a third party completes a repair under the SRT, fleets are still getting charged the full amount. In a hot freight market, fleets need their assets to keep moving and will pay inflated charges to return equipment to the road quickly.
The situation was different in the first and second quarters of 2020, when many drivers were taking time off work and fleets had to idle equipment.
Another contributing factor to inconsistent third-party repair costs is that some dealerships have not come fully onboard with using OEM software platforms to manage the lifecycle of service events, which makes it more difficult to have a transparent communication process for repairs, Stockton said.
3. Where have all the parts gone?
The COVID-19 pandemic has created global shortages of components and parts due to closures of assembly lines and hangups at many ports – a pain point that could become worse and impact delivery dates of new trucks at some point this year.
[Related: Truck OEMs starting down supply chain shortages and concerns]
Semiconductors are one of the most critical parts in short supply. Without semiconductors, assembly lines are immediately brought to a halt since nearly every vehicle system — the engine, transmission, infotainment system and more — are electronically controlled by ECUs.
Perhaps even more concerning is whether or not fleets can get replacement parts.
Standard replacement parts like starters, alternators, brakes and water pumps currently are plentiful, Stockton said. Where fleets are starting to run into problems is finding more specialized items such as parts for auxiliary power units.
Fleets who have spec'd custom parts on their vehicles are more likely to have difficulties finding replacements in months ahead, he said.
When desperate for a part, a fleet manager could always direct a technician to remove one from a truck without an assigned driver. Taking advantage of the driver shortage is not ideal for maintenance, but to keep the wheels rolling you do what you have to, Stockton said.