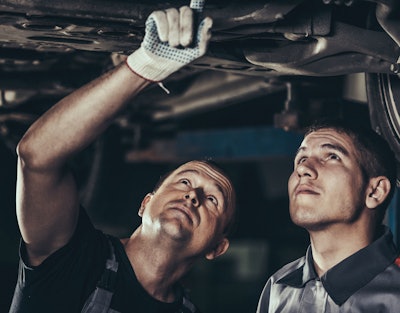 For almost as long as I can remember, we've been talking about the technician shortage in the trucking industry. Some fleets and service providers are taking a grow-your-own approach to the problem. For many of them, this involves developing an apprenticeship program.
Perhaps the most important thing to remember when developing an apprenticeship program is that it is more than just putting a new hire together with your most seasoned technicians and assuming the new tech will get trained properly.
Mary Grace Callipare, director of human resources at NationaLease member DeCarolis Truck Rental, says it is important to designate a trainer. It needs to be someone not only with knowledge of trucks and components, but also someone with excellent communication skills. You might be tempted to assume that your top technician is well suited for this job. And while they may be excellent at maintaining and servicing vehicles, they may lack the patience and other skills needed to teach others. DeCarolis selected a diesel technician with 15-years' experience in trucking (10 of it with DeCarolis) to be in charge of training.
The right curriculum is the next area you need to focus on. You can, of course, write your own curriculum, you can borrow from existing resources, or you can purchase outside programs. Chris Disantis, director of training and field technical support at Aim NationaLease, chose not to reinvent the wheel, but rather to rely on material that already existed from the Technology & Maintenance Council, the Mobile Air Conditioning Society, National Institute for Automotive Service Excellence and Thermo King.
The curriculum focused on preventive maintenance, foundation brakes, slack adjuster, ABS, roll stability systems, air conditioning, refrigeration, engine diagnostics, electrical systems, suspensions, clutches and wheel bearings.
DeCarolis opted to purchase a training program from Cengage called Heavy Duty Truck Systems. It included material for the instructor, printed lesson plans and PowerPoint presentations.
Once you have the instructor and the curriculum, your next step is to find a designated location for the training. You will need space for classroom-type training that is quiet and where apprentices won't be disrupted and an area where they can practice what they learned in the classroom part of the training.
You will also need to have the proper equipment for apprentices to use – equipment solely dedicated for the apprenticeship program.
It is important to decide what the goals of your apprenticeship program are. In DeCarolis' case, it was to develop technicians who could successful complete preventive maintenance service unassisted. That determined the length of the training and what material would be covered. Make sure your curriculum aligns with your goals.
Once your apprenticeship program is set up you need to populate it with apprentices, which can be the most difficult part. Callipare said they looked for candidates with some mechanical ability and a thirst to learn. It is very likely that potential candidates will not have truck experience or even own their own tools. It is best to cast a wide net in your recruiting efforts for these programs. DeCarolis relied on word of mouth, advertisements in local newspapers, on the radio and on LinkedIn. They also used social media sites to recruit candidates.
Disantis said Aim's recruiting process included an in-depth profile of each potential apprentice, a specific set of interview questions, an interview by a team of Aim employees and a grading scale to rate candidates.
Depending on the goals of the program, duration will vary. DeCarolis' program was for six weeks and consisted of classes five days a week. Apprentices were given time each day to review material for the day's lesson and then took a quiz. The trainer would then give a presentation on the day's material, after which the apprentices would get some hands-on practice with the new material.
The Aim program was for 18 months (there is an accelerated program after that for those who qualify) and participants were provided tools, which they were allowed to keep if they successfully completed the program. Apprentices received complete benefits packages throughout the program and raises were based on written and skills test results. All apprentice candidates were asked to sign a formal contract that covered all aspects of the program.
DeCarolis asked apprentices to sign a two-year contract and were paid for participating in the program. They were also provided with all program materials and the use of laptops. Apprentices also received a starter toolkit and tools which they owned if they stayed with the company for two years. After graduating from the program, the participants received pay increases. Once placed into a DeCarolis location, the apprentices were assigned a mentor from the branch for three months.
Aim NationaLease held a graduation ceremony at the end of the program, which was attended by upper management. Graduation certificates were issued and top technician awards were presented. Apprentices were also given formal job offer letters.
A good apprenticeship program can help you grow your technician pool. If you put in the work upfront and have the space, personnel, curriculum and other needed resources, your apprenticeship program should be a big success.
Jane Clark is Vice President, Member Services for NationaLease. In this position, she is focused on managing the Member Services operation, as well as working to strengthen member relationships, reduce member costs, and improve collaboration within the NationaLease supporting groups. Prior to joining NationaLease, Jane served as Area Vice President for Randstad, one of the nation's largest recruitment agencies, and before that, she served in management posts with QPS Companies, Pro Staff, and Manpower, Inc.