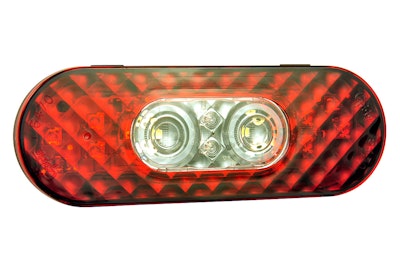 Grote's LED 6-inch oval and 4-inch round Stop/Tail/Turn lamps both are equipped with an integral LED built-in backup lamp designed to combine dual functions with longer-life LED technology. Combining S/S/T and backup functions allows elimination of two holes and two lamps at the rear of straight, vocational and specialized vehicles as well as elimination of separate backup lamps on HD power modules.
The 6-inch oval design incorporates separate connections for each function, allowing the use of existing harness designs. The lamps are built to fit existing grommets and flanges and are sealed to help protect against water and chemical ingress, severe environments, shock and vibration, while their thin profile design helps minimize damage from external impact by fitting in shallow-depth pillar locations.
For more information, go to www.grote.com.