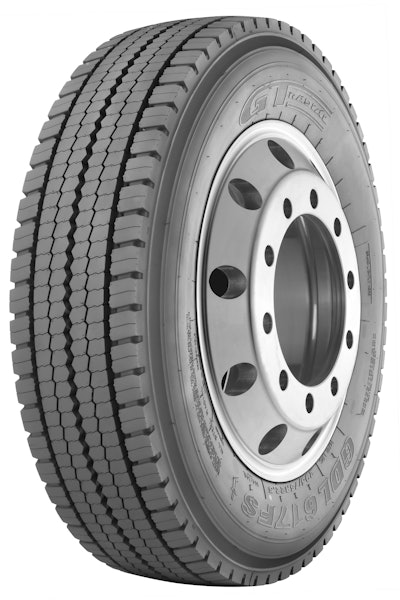 Giti's GT Radial GDL617FS drive tire features a deeper transversal and dimensional zigzag sipe designed for improved traction, irregular wear resistance and fuel efficiency for long-haul applications. The tire features a wider tread and a compound designed for higher mileage, while its central platform and supplementary groove help prevent stone retention.
The GDL617FS also features the company's Equal Force Casing, a carcass technology that enables an optimal tire footprint and equal force distribution for better control and regular tread wear. Giti's Cap Base Design provides the cap layer with added wear-resistant qualities, while the base rubber between the top layer and the casing includes a cooler running formulation that helps insulate the casing from heat buildup. The company's Duo Filler Technology combines hard and soft bead fillers; the soft bead filler helps provide a more comfortable ride and smoother handling, while the hard bead filler is stiffer for better durability.
The tire is available in sizes11R22.5, 295/75R22.5, 11R24.5 and 285/75R24.5.
Giti Tire USA Ltd., www.giti.com