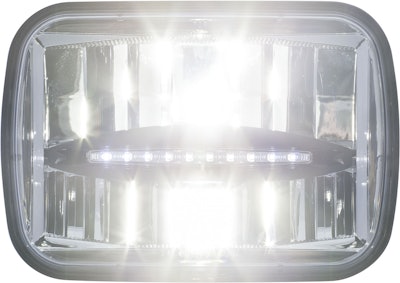 Optronics' 5-by-7-inch combination high- and low-beam Opti-Brite LED Headlamps come in a variety of formats and are engineered with a retroflective LED light beam technology that enable them to project an optimized beam pattern from the bumper to 25 feet out for added driver comfort and performance.
The rear-oriented LEDs face backward toward metallic parabolic reflectors that are precision-engineered to facilitate high- and low-beam photometric characteristics. The company's advanced reflector geometry emits a tightly controlled blue-white light beam that approximates the color temperature of the sun's natural light, making it easier for the human eye to see the road while reducing eye fatigue.
The multivolt-compatible lights are engineered to accommodate 9- to 33-volt electrical systems and have an expected service life of 30,000 hours. They are IP67- and SAE J575e-rated for ingress protection and come with enhanced protection against electromagnetic interference, electrostatic discharge and power surge.
All have powder-coated die-cast aluminum housings and polycarbonate lenses that help protect them against the elements and cracking, fading and yellowing from exposure to UV radiation. They also employ a solid-state surface-mount design that helps protect their electronics against moisture, shock and vibration.
Optronics International, www.optronicsinc.com