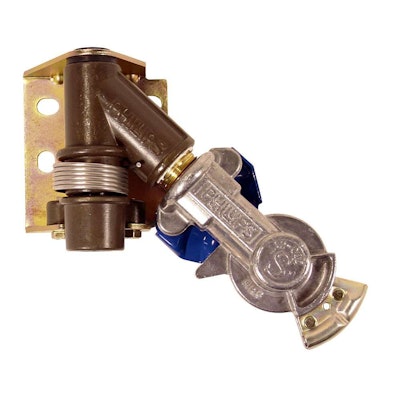 Phillips' Air-Defense Swinger System with Quick-Change Cartridge, part of the company's inline air brake system filtration line, combines its Air-Defense system and a swinger gladhand for enhanced protection of air lines.
The Air-Defense system features an anodized housing and a one-piece screw-in filter with an easy-to see service indicator, and the Quick-Change Cartridge features a bypass mode that helps facilitate complete airflow even when the filter is full; a nonresettable red indicator on the bottom of the cartridge pops out as notification for replacement.
The swinger gladhand swivels 180 degrees side-to-side, keeping air lines kink-free during use; when not in use, the swinger gladhand automatically returns to the seal to protect the air lines. The system is available with one of several gladhand options: straight service, straight emergency, the company's Qwik-E or the swinger arm without a gladhand for customization.
The straight service and emergency gladhands also are available with anodized bodies and stainless-steel connector and detent plates for added corrosion protection.