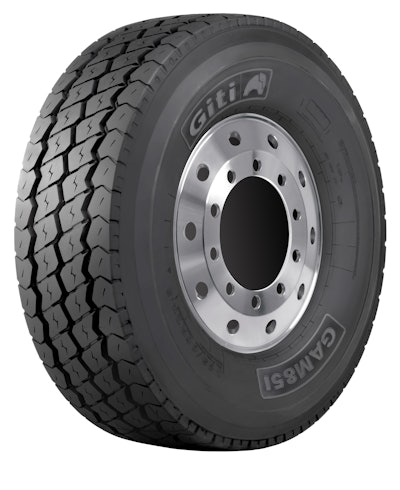 Giti's latest all-position and drive-position mixed-service tires all have a cut- and chip-resistant compound that resists impact, tread tearing and casing damage.
The GAM851, available in sizes 385/65R22.5, 425/65R22.5 and 445/65R22.5, is engineered for added traction in mud and snow and features a deep tread, a three-groove design that helps provide even wear and reduced noise levels, and a casing construction built to provide a footprint for added handling.
The GAM835, available in sizes 11R22.5, 315/80R22.5 and 11R24.5, features an optimized tread width ratio for added block stiffness, even wear and long mileage; three zigzag grooves with a Y-style design to help increase traction and reduce stone retention; and a shoulder-stepped groove design that helps improve casing protection and increased stability and driver comfort.
The GDM635, available in sizes 11R22.5 and 11R24.5, features an independent block design to help deliver consistent traction; an ultra-wide tread and deep grooves that both help provide long service life in rugged conditions; and a steel-belt construction that contributes to durability and retreadability.
The GDM686, available in sizes 11R22.5, 12R22.5 and 315/80R22.5, features a big-block and wide-groove design that helps enhance stability; and a directional deep tread that helps with traction and self-cleaning properties.
Giti Tire (USA) Ltd., www.gitiusa.com