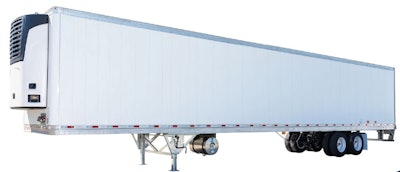 Hyundai Translead announced upgrades to its HT ThermoTech trailer line featuring enhancements designed to provide more efficiency and reliability. The company said new design features and manufacturing processes, as well as new automation assets, leverage the Hyundai Motor Group's automotive and manufacturing expertise to produce a more thermally efficient, durable and lighter trailer.
Improved thermal efficiency: Structural components that give refrigerated products their load-carrying capacity can work against thermal efficiency because they transfer heat through the insulation. Hyundai Translead said it is minimizing the effects of heat transmission with better structural designs, and in some cases, the structure mass has been redesigned so the insulated panels can include more insulating material.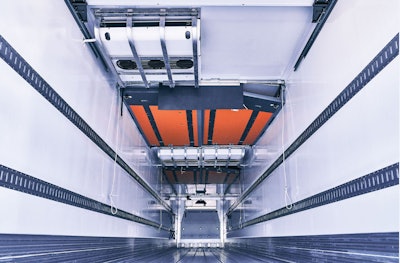 Efficiency loss will occur when moisture saturates the insulation, so designs that prevent moisture intrusion help maintain efficiency longer. Joints and closures were eliminated or improved to be less dependent on caulking and sealants. Primers and bonding techniques are incorporated in the manufacturing process to add to the integrity of laminations between sheet materials. Preventing bonding separation between the outer skins and the insulation helps discourage water gain due to condensation.
Hyundai Translead also has taken steps to address longevity by redesigning the components most susceptible to damage. The deck now uses taller, stiffer structures to help support the floor surface. Heavy-duty aluminum floor extrusions fit together with a mechanical lock to take stress off the welded joints, and the new fully automated welding fixture lays down a weld-bead of greater mass for additional strength.
All wood structures within the deck were removed and replaced with sustainable recycled materials that help increase fastener retention and will not absorb moisture. The company said the combination of material choice and design ingenuity allowed 13 percent greater floor ratings with no weight addition.
Greater durability: Structural floor sills have been redesigned with rigid PVC, a more durable and recycled material. In addition to material changes, the floors also feature a new "mechanical lock" design with the floor pieces secured together prior to welding.
"The improvement is to put a mechanical lock in the design so that when you connect the two pieces together, we actually have a big advantage in the mechanical fit of these two pieces together even before we weld it," said Adam Hill, vice president and a lead chief engineer for Hyundai Translead.
Uniform computerized welding of every vertical seam in the flooring of each trailer now is fully automated at Hyundai Translead's plant to facilitate a more consistent and durable weld. To combat corrosion, all steel deck structures, support legs and braces, slider components and rear impact guards undergo hot-dipped fully submersed zinc galvanization after assembly to help protect all component surfaces, including welds. The integral stainless-steel front impact assembly comes with a coupler assembly fully submersed with paraffin-based undercoating as standard equipment.
Reduced weight: All insulated panels were optimized to help reduce weight. Sidewall, roof, deck and front assemblies are lighter by converting to lighter-weight raw materials or applying design techniques that require fewer components or leaner assemblies. According to the company, today's HT ThermoTech trailer is 600 pounds lighter than previous base line-haul models.
"We have invested significant capital expenditures and made improvements to refrigerated trailers to be competitive, and we will continue to invest and be innovative," said Bonjae Lee, chief executive officer for Hyundai Translead.