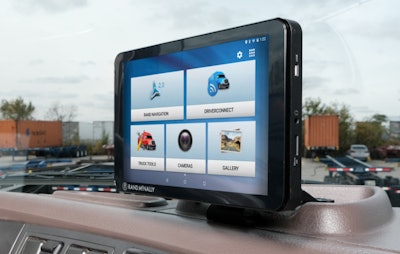 Rand McNally's TND Tablet 85 dashboard tablet uses the company's latest Rand Navigation 2.0 that features technologically sophisticated truck routing, a modern clean interface, crowdsourced reviews and updated visuals such as three-dimensional cities and landmarks to help improve usability, truck routing, traffic avoidance and weather overlays.
The Tablet 85 hardware includes a hexacore processor and a customized operating system for faster functionality, smooth graphics and robust turn-by-turn directions available through the device's speaker. A directional dashcam with loop recording and an integrated G sensor allows the user to situate the angled lens to face them, with the offset lens providing an optimal camera view through the windshield. Driver support tools include mileage and fuel logs and the ability to create breadcrumb routes and an at-a-glance trip computer.
The device is electronic logging device-ready with an onboard DriverConnect app for pairing to an approved ELD. A magnetic mount locks the device that has enhanced thermal resistance up to 140 degrees Fahrenheit and provides all the benefits of an Android tablet, with the ability to access email, news and entertainment.
Rand McNally, www.randmcnally.com