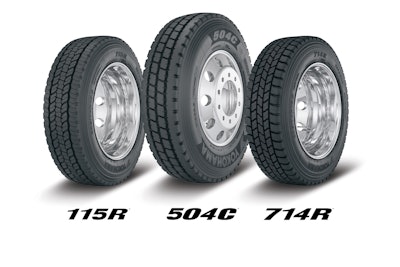 Yokohama introduced three new truck tires and new sizes for two other tires.
• The 504C, which replaces the MY507, is an aggressive all-position radial designed with a sturdy undertread for improved retreadability and longer overall casing life to handle both on- and off-highway applications. It will be available in May in sizes 11R22.5 (H) and 11R24.5 (H).
• The urban pickup-and-delivery 714R features enhanced construction to help facilitate added fuel efficiency and wide shoulder grooves for added traction. It will be available this summer in sizes 225/70R19.5 (14) and 245/70R19.5 (16).
• The all-position 115R for Class 4 and 5 vehicles is built for year-round traction and dependability and is engineered with a heat-resistant compound for improved fuel efficiency and a longer-lasting tread. It has an N speed rating (87 mph) and will be available this summer initially in size 225/70R19.5 (14).
• The 715R open-shoulder regional-drive tire, already available is size 11R22.5, now also is available in sizes 295/75R22.5, 285/75R24.5 and 11R24.5.
• The 114R UWB regional-haul ultra-wide-base trailer tire, now available in size 445/50R/22.5, also will be available this spring in size 455/55R/22.5.
Yokohama Tire Corp., www.yokohamatruck.com