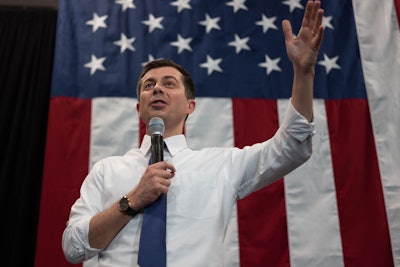 The U.S Senate on Tuesday easily confirmed Pete Buttigieg, 86-13 in favor, as the next Secretary of Transportation, catapulting the former South Bend, Indiana, mayor to a Cabinet position under President Joe Biden after he rose to national prominence as a Democratic presidential contender in 2020.
The confirmation came less than two weeks after Buttigieg testified before the Commerce, Science and Transportation Committee, where he told a panel of Senators that he planned to make working with Congress on boosting infrastructure funding a top priority for his time as DOT head. That included finding short-term and long-term avenues for securing the U.S. Highway Trust Fund's solvency in funding roads and bridges projects.
Buttigieg also told Senators then that he would take a look at trucking programs and regulatory actions paused by the incoming Biden Administration, such as the pilot program to expand available split sleeper options within federal hours of service regulations, and maintaining exemptions for trucking from state-level rest break laws. Likewise, he said he would look into ongoing exemptions from the ELD mandate for livestock haulers.
The 38-year-old ran against Biden in the Democratic primary last year, and won the first state up for grabs (Iowa), before dropping out of the race and endorsing Biden a few weeks later. Buttigieg hit the campaign trail on behalf of then-candidate Biden in the months leading up to the November general election. He pledged during his campaign to push a $1 trillion infrastructure package if elected.
Buttigieg tweeted after the vote that he's "humbled and honored," and that he's "ready to get to work."