Trucking news and briefs for Wednesday, Feb. 24, 2021:
Idaho-based trucker ordered to shut down following crash, DUI charges
The Federal Motor Carrier Safety Administration has effectively shut down an Idaho-based truck driver after a crash in which he was found to have a blood alcohol concentration of more than three times the legal limit for CDL holders.
Shane R. Warr was driving on I-15 in Pocatello, Idaho, on Feb. 3, when his truck crossed the median and struck two passenger vehicles, with one of the drivers requiring transport to a hospital.
Warr submitted to two breathalyzer tests conducted by Idaho State Police at the scene of the crash. Conducted minutes apart, the first test returned a BAC of 0.132; the second 0.124. The legal BAC limit for CDL holders is 0.04.
Warr has been charged by the state of Idaho with the felony offense of driving under the influence of alcohol. He has also been charged with two misdemeanors: possession of an open container and carrying a concealed weapon while under the influence of alcohol.
In August 2016, Warr was convicted in Idaho for driving under the influence of alcohol and had his license suspended for one year, FMCSA says.
Failing to comply with the provisions of the federal imminent hazard order may result in civil penalties of up to $2,500 for each violation. Knowing and/or willful violations may result in criminal penalties. 
Warr may not operate a commercial motor vehicle until he successfully completes the statutorily required return-to-duty process overseen by a substance abuse professional.
Nikola announces plans for hydrogen fuel-cell electric trucks
Nikola Corporation on Tuesday unveiled details about its North American hydrogen fuel-cell electric vehicle (FCEV) commercial truck program, which includes fuel-cell variants of the Nikola Tre cabover and the long-range Nikola Two FCEV Sleeper "targeting best-in-class efficiency for ranges between 300-900 miles in the North American market," the company said.
With the announcement, the company's portfolio now includes trucks for various trucking segments:
Metro/Regional – Nikola Tre BEV Cabover for trips up to 300 miles
Regional – Nikola Tre FCEV for longer-range needs of up to 500 miles and for fast fueling/quick turnaround needs
Long-Haul – Nikola Two FCEV Sleeper for long-range trips up to 900 miles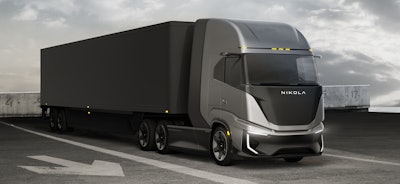 The Nikola Tre FCEV Cabover is targeted for distances up to 500 miles and is expected to address the majority of the North American regional market, especially use cases where additional freight hauling capacity and quick fueling are required by fleet operators. The Tre FCEV leverages the Tre BEV platform with hydrogen fuel-cell power, while being designed to improve aerodynamics and reduce total vehicle weight.
The first Tre FCEV prototype builds are scheduled to begin in Arizona and Ulm, Germany, in the second quarter of 2021, with testing and validation of the vehicles continuing into 2022, and production commencing planned for the second half of 2023.
The Nikola Two FCEV Sleeper is a long-haul freight option with hydrogen capacity allowing a non-stop range of up to 900 miles, leveraging the weight advantage of hydrogen in long-range, long-haul zero-emission trucking. The truck will be based on a new chassis custom designed for North American long-haul routes and is anticipated to launch in late 2024.
The Nikola Tre and Nikola Two FCEVs are expected to utilize multiple common fuel-cell power modules and scalable hydrogen storage systems. Both systems are currently in development and testing with industry leaders in collaboration with Nikola Engineering. The first Tre prototypes utilizing these systems are expected to begin road testing in 2022.
HHG mover pleads guilty to moving scam conspiracy
A Florida-based household goods mover pleaded guilty Jan. 28 to conspiring in a racketeering enterprise to defraud individuals throughout the U.S.
According to the DOT Office of Inspector General, beginning around February 2014, Seth Nezat participated in a scheme that defrauded, extorted and stole from customers who hired certain moving companies to move their household goods.
To obtain customers, the companies allegedly provided low binding estimates and promised to beat their competitors' prices.
According to an investigation, the scheme involved the companies loading customers' goods onto a truck, increasing the price of the move, and holding the goods hostage until the customer paid the inflated prices. OIG also alleges the companies also charged customers for moving more cubic feet of household goods than they actually loaded and did not deliver some household goods at all.
When customers complained, the conspirators would shut down the latest iteration of the moving company and open a new one, falsifying information about the owners' identities in order to fraudulently receive operating licenses from the Federal Motor Carrier Safety Administration, OIG adds. The scheme defrauded more than 1,800 victims. In total, the conspiracy is valued at $1 million to $3.5 million.