An infrastructure funding bill making its way through Congress could add even more fuel to an already hot freight market. The current highway spending bill, the FAST Act, is set to expire Sept. 30.
President Joe Biden outlined plans for a $2.25 trillion version that immediately drew criticism from Republican lawmakers for putting only 6% toward roads and bridges.
Last week Rep. Peter DeFazio (D-Oregon), chairman of the House Committee on Transportation and Infrastructure, provided some specifics of what the bill will contain before it leaves the House. Noteworthy: At least $100 billion in spending is slated to repair existing infrastructure.
DeFazio gave the keynote address at the virtual 2021 Capital Ideas conference by the Transportation Intermediaries Association. The congressman also said the bill will include upgrades to make roads and bridges "resilient to climate change issues, sea level rise and other challenges."
Beyond making repairs, he said "we need to begin to look more toward a future where there is going to be reduction in fossil fuels for transportation." He noted the bill will include spending to electrify the national highway network.
As for how to pay for the next infrastructure plan, DeFazio said this detail will come from the Ways and Means Committee. He has proposed the bill should index the gas tax and use bonding, but these items are non-starters for the Biden Administration, he said.
A version of the bill should be out of the U.S. House of Representatives by July 4 and on its way to Senate Committees, he said.
DeFazio threw some shade on the Obama Administration for its $800 billion stimulus bill in 2009 that promised "shovel ready" projects, of which only 4% went toward infrastructure. The Obama Administration was also afraid of hiking the gas tax, and President Trump, "only proposed cuts to transportation and infrastructure," he said.
Besides investing in highway infrastructure, "we've got to make the system more efficient," he said. "We once were the envy of world with our national highway system. Now we are rated 15th."
At the current rate of investment, he noted, the United States is ranked 60th in the world in terms of the percentage of GDP it spends on infrastructure. "That has got to change this year. This is our opportunity. This is our time," he said.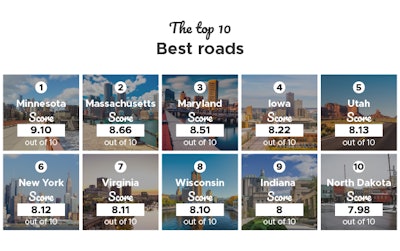 The worst states
Research compiled by Zutobi, an online driver's education resource, looked at the quality of roads in each state according to the International Roughness Index and the rate of highway deaths in 2020 to calculate an overall score out of 10. South Carolina scored the worst of all states with a reasonable 81.3% of acceptable road surface, but 183 highway fatalities per million vehicle miles traveled – the highest of any state.
Mississippi has the second worst roads in America with just 73.2% of its roads deemed acceptable and 163 highway fatalities per million vehicle miles traveled.
Minnesota was ranked the best place to drive in the country. The majority (85.1%) of the state's roads are well maintained, and it has a low highway fatality rate of 0.61 (per 100 million vehicle miles traveled).