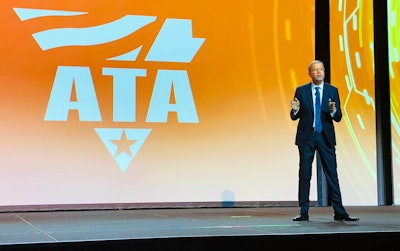 ATA
During the annual State of the Industry and Association address at the 2021 American Trucking Associations' Management Conference and Exhibition in Nashville, ATA President Chris Spear on Monday celebrated the organization's advocacy and legislative achievements while citing challenges from politicians, organized labor and trial lawyers.
With a vote on the Infrastructure and Jobs Act not expected until Wednesday, Spear confidently chalked up its pending passage as "an example of what is possible when we tell our story," he said to the audience of motor carriers, state trucking associations, suppliers and industry stakeholders. "In the House and Senate, ATA testified 24 times over the last five years and held countless Calls on Washington on Capitol Hill, where our members walked the halls, knocked on doors and made an ask. Talk about your voice being heard."
Spear noted the bill's $477 billion in new funding – including $347.5 billion for highways and $37 billion for bridges – is the largest federal investment for road and bridge infrastructure since the creation of the Interstate Highway System. It also includes ATA's Drive Safe Act policy that would develop training and open the door for under-21 drivers to operate across state lines, establishes a Women in Trucking Advisory Board at the Federal Motor Carrier Safety Administration and fund a Department of Transportation advertisement campaign to promote the trucking profession.
"What is in this bill is good, but what is not in this bill is even better," added Spear. "While the radical left pushed hard for them, we fought successfully and kept harmful anti-trucking measures out of the bill, including the PRO Act, independent contractor reclassification, a reversal of our meal and rest break pre-emption victory, as well as hours of service rollbacks and a return to the old, flawed CSA scoring program."
Spear said ATA also fought efforts by Senate Republicans that would have funded the bill "solely on the backs of truckers, proposing a truck-only tax and broadening state tolling authorities… This bill received ATA's support because it paves way for America's future, not yesterday's politician."
Spear identified several issues ATA and the industry are currently engaged in, beginning with the proposed COVID-19 vaccine mandate and a warning to politicians of its ramifications on the supply chain. "[Trucking] remains committed to customers, consumers and the nation, delivering milk, eggs and bread, as well as PPE, test kits and now vaccines," Spear said. "Elected officials would be wise to take that into consideration, especially with mounting shortages of talent not just in trucking but in every sector of the nation's economy where labor participation is at an alarming 61%."
Spear continued to press Washington politicians, noting the change in White House administration and federal agencies as well as the power shift in the U.S. Senate since ATA last met in San Diego in 2019. "All with new leaders and all with a new agenda, and not all of it is together aligned with our priorities. These changes have also emboldened our foes, giving them the platform to promote self-serving needs laced with rhetoric and emotion."
Two years ago, nuclear verdicts and lawsuit abuse were identified as a tier-1 priority issue for ATA. Spear said in that time, the federation and state trucking associations have racked up multiple victories, including wins in Iowa, Missouri, Louisiana, Montana, West Virginia and Texas. "Let's be clear. For two and a half centuries our nation's justice system has been blind, not political," said Spear. "We are done subsidizing this vile profession. We are alerting defense attorneys of the science and arming them with the proper response. This approach ensures the cases center on the facts and merits, not Powerball payouts."
Turning his attention to organized labor, Spear highlighted three instances where unions are pushing agendas that threaten the trucking industry. "Now they are pulling out all stops on their so-called PRO Act, which would take decades-old federal labor laws in favor of unions, removing employer protections, state right-to-work laws, and make it a breeze to organize open shops," he said. "They want to take California's AB5 classification of independent contractors to the national stage, and not surprisingly, they want to reverse our hard-fought win pre-empting California's duplicative meal and rest breaks.
"At every chance to legislate one or all of these issues, these big labor bosses have come up short," he added. "They have lacked the votes on all three, driven largely by what folks back home are telling their elected officials, 'This is America where individual freedom to decide one's path still means something.' Once again, your voice is being heard."