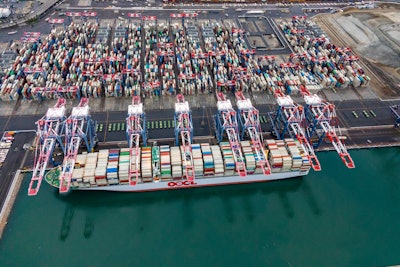 Port of Long Beach
Temporarily raising the 80,000 lb. truck weight limit in California to 88,000 lbs. largely misses the mark when it comes to relieving historic congestion at the state's ports, according to trucking experts.
Governor Gavin Newsom recently announced that the state will begin issuing temporary permits to allow trucks to gross upwards of 88,000 pounds on state and intrastate routes between statewide ports and distribution centers.
Newsom and others believe that increasing the truck's max weight by 4 tons will help clear out massive stacks of shipping containers at the ports and get freighters anchored offshore to the docks faster for unloading.
Trucking experts, however, advise that the 8,000-lb. allotment will invite more equipment challenges and end up doing little to alleviate port congestion.
"Nobody, and I mean nobody thinks this was anything more than putting lipstick on a pig. It's still a pig," said Joe Rajkovacz, director of governmental affairs and communications at the Western States Trucking Association (WSTA).
"You'll note in the order allowing 88,000 lb. stipulated axle weight limits were not being changed which in practical terms means you must have three axle trailers/split axle trailers (that'll only get you to a gross of 86,000)," Rajkovacz continued. "That kind of equipment is rare in the intermodal market here in California."
Small fleet owner and WSTA member Bill Aboudi of Oakland Port Services agreed.
"If you need to have the correct axles, that means you have to use special equipment," said Aboudi. "They don't even have regular equipment, let alone special equipment made with extra axles. Where are you going to get them from? How is this going to help?"
Overweight containers that could benefit from the temporary weight hike are scarce, Aboudi said.
"The containers that are overweight are a fraction," Aboudi continued. "I haul containers that are 2,000 pounds in cargo weight. How is that going to help to expedite this stuff? It's a very small fraction. It's the ag stuff and it actually affects exports out of Northern California more than imports in Southern California."
The California Trucking Association (Caltrux) also pointed out cargo concerns with the new measure.
"We appreciate the administration's continuing efforts to address port congestion, however, it's unknown what impact the 88k lb. temporary permit will have at this time as lots of import cargo runs out of space before running out of weight," said Chris Shimoda, Caltrux' senior vice president of government affairs. "Truckers, cargo owners and the steamship lines will need to coordinate to obtain the permits where it makes sense and those containers won't be arriving in the immediate future."
Tackling bigger problems
As empty containers pile up at the ports, so do plenty of problems according to Caltrux, WSTA and leading 3PL provider NFI Industries. All three parties would like to see greater emphasis placed on reducing vast numbers of empties which, in addition to hampering port efficiency, have sparked public relations battles after being stacked in neighborhoods close to the ports.
"The buildup of empty containers off terminal is really the underlying reason for the congestion," Aaron Brown, senior vice president of the California Cartage Company at NFI Industries, said during NFI's recent 2022 Supply Chain Outlook Webinar.
"They're taking up precious space or taking up precious chassis supply. We need to get the empty containers flushed out in the very short term to start getting some of the new cargo flowing into the import supply chain," Brown continued.
Shimoda agreed. "The greatest operational issue facing port trucking at the moment are empty containers occupying chassis and congesting terminals," he said. "That continues to be our primary focus."
Success however hinges on more than just shipping out empty containers.
"Clearing the empties would obviously be a big help since you have to drop an empty to get a load out," Rajkovacz said. "However, the ports here have atrocious turn times in the best of times and even if the empties were cleared, there is no guarantee of getting an appointment in a timely manner where the motor carrier wouldn't be forced into a demurrage situation through no fault of their own."
The unprecedented freight surge at U.S. ports often leaves truckers waiting in long lines for hours, unable to make appointment times to pick up containers. Shipping lines can then hit truckers with demurrage, a fee that penalizes them for not showing up on time to get containers.
In response, WSTA recently asked Newsom to enforce Senate Bill 45, a state law which prevents demurrage under certain circumstances such as port congestion.
"The governor could do better by directing his AG office to enforce SB 45 especially in light of all the articles showing the steamship lines are profiting immensely off their own imposed dysfunction," Rajkovacz said.
Aboudi said demurrage policies have long favored shipping lines who he said are not only benefitting from the current freight surge but also from demurrage.
"There's millions and millions of dollars that's going to these penalties that shouldn't be charged," he said. "If California was to do their job by enforcing SB 45, we would eliminate all this—everything. There's no incentive for them not to pick up the empties. We should be able to charge them for storing their empties. Then you'll see how quickly they'll get those sweeper ships in to sweep [empty containers] out."