Trucking news and briefs for Monday, Dec. 13, 2021:
House passes legislation that looks to ease detention at ports
The U.S. House of Representatives on Dec. 8 passed the Ocean Shipping Reform Act that would, among other things, seek to end abusive detention and demurrage practices at U.S. ports.
Introduced by Reps. John Garamendi (D-California) and Dusty Johnson (R-South Dakota), the bill is the first major update for laws governing U.S. maritime port operations in more than 20 years.
The legislation mandates a new rulemaking by the Federal Maritime Commission to prohibit "unjust and unreasonable detention and demurrage rules practices," including a look into the appropriate billing parties for those charges.
The FMC rulemaking is required to establish definitions for demurrage, detention, cargo availability for retrieval and associated free time, and more. It's also required to establish that demurrage and detention rules are not independent revenue sources but incentivize efficiencies in the ocean transportation network, including the retrieval of cargo and return of equipment.
The American Trucking Associations says the legislation is needed to end abusive practices imposed on American trucking companies at U.S. maritime ports by ocean carriers, most of which are foreign-owned.
Specifically, the trucking industry seeks relief from excessive detention and demurrage charges – unfair fees levied on motor carriers by ocean carriers and marine terminal operators when shipping containers are not moved on schedule, even though delays are typically due to factors entirely outside truckers' control and often the result of inefficiencies caused by the ocean carriers themselves.
Members of ATA's Intermodal Motor Carriers Conference and Agriculture and Food Transporters Conference say such changes are critical to improving the treatment of truckers servicing the ports.
"Ensuring fair practices at our ports is critical to ensuring goods get from docks to warehouses and store shelves," said Jon Eisen, director of ATA's IMCC. "House passage of the Ocean Shipping Reform Act is a major step toward modernizing regulations to reflect the commercial realities of ocean freight and their impact on our domestic transportation networks. ATA welcomes the improvements in this bill and a vigorous debate over these issues."
World-famous metal band helps fund CDL school scholarships in Kentucky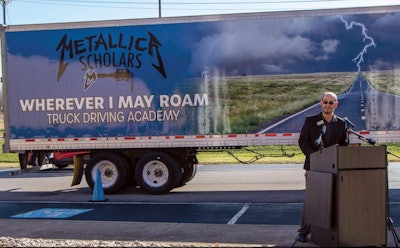 The CDL program at a Kentucky community college has gotten a boost from one of the best-selling bands of all time.
Elizabethtown Community and Technical College recently held an event to showcase its driver training program and announced the next phase of a scholarship program supported by Metallica, the world-famous metal band.
According to a statement from the college, the Wherever I May Roam Truck Driving Academy, named for a Metallica song, is a part of ECTC's collaboration with the Metallica Scholars Initiative. The event featured an unveiling of a new truck wrap. The Metallica Scholars Initiative is supported by All Within My Hands foundation created by the band.
"The Metallica Scholars Initiative has proven time and time again that they are fully committed to promoting and supporting technical education and training," said Mike Hazzard, dean of Workforce Solutions and Technical Programs at ECTC. "This year, the program expanded and now provides scholarships to CDL students, and Metallica has lent their name to help us grow awareness for this high-demand, lucrative career field."
The Metallica Scholars Initiative has provided more than 100 scholarships to CDL and advanced manufacturing students at ECTC, the college said.