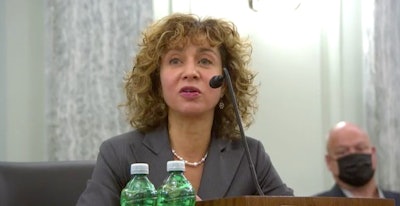 Meera Joshi, acting administrator of the Federal Motor Carrier Safety Administration (FMCSA), is leaving the post to accept a position as Deputy Mayor of Operations for New York City.
Joshi, nominated by President Joe Biden in April to serve as the agency's full-time administrator, has served as FMCSA's acting administrator since January. She was overwhelmingly confirmed in October by the U.S. Senate Committee on Commerce, Science and Transportation to take on the role full time but had not yet been confirmed by the full Senate.
FMCSA hasn't had a full time administrator since Ray Martinez, who stepped down from the post in October 2019. The job has since been held by Jim Mullen, Wiley Deck and Joshi, each as acting administrator.
"Meera Joshi has led FMCSA through historic times — as an unprecedented global pandemic, countless natural disasters, a cyberattack on a major domestic pipeline, and widespread workforce shortages challenged the freight economy in ways never before seen," said American Trucking Associations President and CEO Chris Spear. "Throughout her tenure, the trucking industry has found Deputy Administrator Joshi to be a candid, collaborative, and valued partner in government. Her use of data and stakeholder input drove a sound policy process designed to meet real-world needs. Her leadership has helped to ensure our industry could continue to safely serve the American people and meet the demands of the economy during these incredible times."
A spokesperson for the Department of Transportation (DOT) said the agency was grateful for Joshi's leadership this past year at FMCSA, applauding her for engaging "with truck drivers and the motorcoach industry to chart a clear path for FMCSA to address our supply chain challenges, improve driver safety and job quality and has built a strong team at FMCSA who will help build on this foundation."
Joshi's ascent to Deputy Mayor of the most populated city in the U.S. is a homecoming of sorts. She previously served on the New York City Taxi and Limousine Commission, which regulates the city's taxis, for-hire vehicles, commuter vans and paratransit vehicles.
Joshi, along with DOT and FMCSA, were set to play a key role in President Biden's Trucking Action Plan, which seeks to attract and retain workers to the trucking and transportation industries.