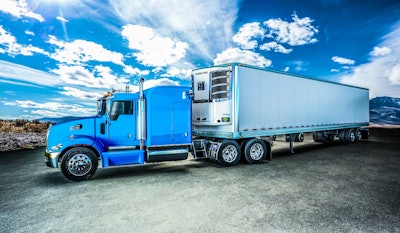 Thermo King is making standard a lower global warming potential (GWP) refrigerant in its truck and trailer units.
Thermo King's Precedent trailer portfolio will transition to the lower-GWP refrigerant (R452A) this month, and truck products will come standard with the new refrigerant mid-2022. Customers previously had the option to drop in R452A refrigerant, but new units will no longer use R404A.
R452A is a hydrofluoro-olefin blend compared to R404A, which is a hydrofluorocarbon blend. Hydrofluorocarbons are greenhouse gases known as a contributor to global warming.
Bruce Kranz, engineering manager at Thermo King, said the switch to R452A, which is also used as a replacement for R507 refrigerant, is expected to enable fleets to reduce the carbon footprint of refrigerants by nearly 50% – or approximately 650,000 metric tons of CO2e annually, equivalent to the emissions of 143,000 passenger vehicles per year.
Roughly 90% of refrigerant emissions occur at equipment's end of life, and Kranz said refrigerant recovery and recycling can be inconsistent at the end of the system's life, "partly due to global resale into secondary markets. In addition, escape can happen due to things like wrecks, damage or insufficient maintenance."
As part of the global transition to more sustainable refrigerants, Thermo King has been using R452A for its entire EMEA portfolio for several years and select products in North America and in Asia Pacific and noted that its performance closely matches that of R404A
In addition to meeting sustainability commitments, using a lower-GWP refrigerant as standard helps motor carriers prepare for future regulation. Beginning next year the California Air Resources Board (CARB) will require TRUs operating in California to use refrigerants with a GWP of 2200 or less. A recent study concluded that replacing high-GWP HFCs with low-GWP alternatives could avoid 0.1°C of warming by 2050.