Trucking news and briefs for Monday, Jan. 17, 2022:
FMCSA officially establishes under-21 apprenticeship pilot program
The Federal Motor Carrier Safety Administration, in a Federal Register notice published Jan. 14, officially announced the establishment of its Safe Driver Apprenticeship Pilot Program that will allow 18-20-year-old CDL holders to cross state lines after extensive training.
The program has been in the works since September 2020, when FMCSA first published a request for comments regarding the program. The Biden Administration's Infrastructure Investment and Jobs Act, signed into law last November, requires the agency to establish the program, which will allow trucking companies to establish apprenticeship programs for under-21 truck drivers.
The apprenticeship program must consist of two probationary periods, one for 120 hours and the other for 280 hours, each of which includes minimum hours of driving time with an experienced driver and performance benchmarks. In addition, the CMVs to be operated during the pilot program must be equipped with specific vehicle safety technologies.
Last week, FMCSA took the first step in establishing the program by requesting emergency approval for an information collection request from the White House Office of Management and Budget. Once approved, FMCSA will seek OMB approval for the full three-year period.
Once the program is implemented, FMCSA will publish on its website an announcement that applications are open for participation in the program. No more than 3,000 apprentices will be allowed to participate in the pilot program at any one time, and FMCSA estimates that it will need a maximum of 1,000 motor carriers to participate to hire the pilot program participants.
Carriers who are approved to participate will be required to submit monthly data on an apprentice's driver activity, safety outcomes, and any additional supporting information, such as from onboard monitoring systems.
The full list of motor carrier qualifications can be found in Friday's Federal Register notice
Covenant adding 50 Nikola zero-emission trucks to fleet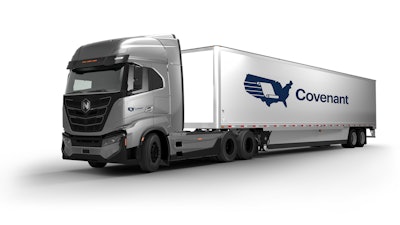 Nikola Corporation and Covenant Logistics Group (CCJ Top 250, No. 38) announced this week a collaboration that will further Covenant's sustainability objectives by adding 50 zero-emission vehicles to their fleet.
This collaboration includes a Letter of Intent (LOI) for 10 Nikola Tre battery-electric vehicles (BEVs) and 40 Nikola Tre fuel cell electric vehicles (FCEVs), following the satisfactory completion of a Nikola Tre BEV and Nikola Tre FCEV demonstration program. Delivery to Covenant of the first Tre BEV truck and mobile charging trailer for testing is expected in Q2 2022, with the Tre FCEV testing expected to follow in 2023.
"Nikola's battery-electric and hydrogen roadmap fits perfectly with Covenant's approach to sustainability as we increasingly work with customers to minimize their scope three emissions and meet their ESG initiatives," said Matt McLelland, Covenant's VP of Sustainability and Innovation. "Adoption of BEV and FCEV technologies are an important part of Covenant's long-term commitment to the decarbonization of freight and we are excited about this opportunity to partner with Nikola to meet these goals."
Canada says border vaccine mandate still in place, despite reports
Canada's minister of health on Thursday admitted to making an error in communication when on Wednesday news outlets were told that the country would relax its vaccine mandate for Canadian drivers reentering the country.
"On November 19, 2021, we announced that as of January 15, 2022, certain categories of travelers who are currently exempt from entry requirements, will only be allowed to enter the country if they are fully vaccinated with one of the vaccines approved for entry into Canada. These groups include several essential service providers, including truck drivers. Let us be clear: This has not changed. The information shared yesterday was provided in error. Our teams have been in touch with industry representatives to ensure they have the correct information," a statement sent to Overdrive said.
On Wednesday, the same agency told Canada's national broadcaster and international media outlets that "[u]nvaccinated, or partially vaccinated Canadian truck drivers arriving at the border will remain exempt from pre-arrival, on arrival and post-arrival testing and quarantine requirement," citing industry pressure.
The Canadian Truckers Association estimated that the Canadian trucking industry would lose 12,000-16,000 (10-15%) of cross-border truck drivers due to the mandate.