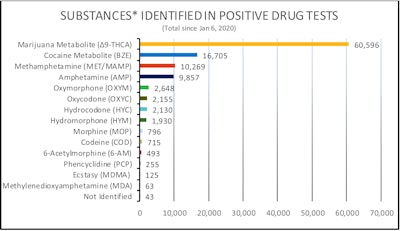 The second year of the Drug and Alcohol Clearinghouse saw 58,215 drug violations in the system, compared to 52,810 in the program's first year in effect.
The majority of violations stemmed from positive drug tests (49,013 in 2021), while 8,152 violations were drug test refusals. The remaining 1,050 violations reported in 2021 were actual knowledge violations reported by employers.
Positive marijuana tests put more drivers in the Clearinghouse than any other substance, FMCSA reported, with 31,085 positive drug tests in 2021 – a 5.3% increase over reported marijuana violations in 2020. Cocaine was the second-highest positive substance among drivers, with 8,765 positive tests – a 10.4% increase over the previous year.
Methamphetamine was responsible for the third-most positive tests in the Clearinghouse with 5,082 violations, a 2% decrease from 2020.
Apart from marijuana and cocaine, methylenedioxyam-phetamine (MDA) was the only other substance to see an increase in violations in 2021 over 2020.
Alcohol violations also increased in 2021 over 2020, with 1,422 violations reported to the Clearinghouse, up from 1,122 in 2020.
Of the 104,840 drivers who have at least one reported violation in the Clearinghouse since it took effect in January 2020, there are still 81,052 drivers in prohibited status who have not completed their return-to-duty process. Of those drivers in prohibited status as of Jan. 1, 2022, only 13,050 have completed the requirements to be eligible for return-to-duty testing.