Trucking news and briefs for Thursday, March 31, 2022:
DOT implements annual regs violation penalty increases
The Department of Transportation last week published a final rule updating the civil penalty amounts that may be imposed for violations of certain DOT regulations, including Federal Motor Carrier Safety Administration regulations focused on in trucking-company audits.
DOT is required by Federal Civil Penalties Inflation Adjustment Act Improvements Act of 2015 to adjust fine amounts each year based on inflation.
A final rule that published in the Federal Register Monday, March 21, made the new fine amounts effective immediately. The 2015 Act required FMCSA and other DOT agencies to issue an initial "catch-up" adjustment, followed by annual adjustments for inflation.
The DOT, to find the 2022 adjustment amount, had to multiply the previous penalty amount by the percentage change between the October 2021 Consumer Price Index for All Urban Consumers (CPI-U) and the October 2020 CPI-U, which for that period was 1.06222. Given this multiplier, all of the fine amounts increased.
The updated fines for FMCSA regulations violations can be seen here. 
Speeding to be focus of 2022 Operation Safe Driver Week
This year's Operation Safe Driver Week targeting unsafe driving behaviors is scheduled for July 10-16, the Commercial Vehicle Safety Alliance announced Tuesday.
Law enforcement personnel in the U.S., Canada and Mexico will be on roadways throughout that week issuing warnings and citations to commercial and passenger vehicle drivers engaging in unsafe driving behaviors, such as speeding, distracted driving, following too closely, improper lane change, drunk or drugged driving, etc.
Earlier this month, the U.S. Department of Transportation's National Highway Traffic Safety Administration released its latest annual traffic crash report, showing that 38,824 lives were lost in traffic crashes nationwide in 2020 – the highest number of fatalities since 2007. And while the number of crashes and traffic injuries declined overall, fatal crashes increased by 6.8%.
Due to speed-relating fatalities increasing by 17% in 2020, according to NHTSA's data, law enforcement officers will be keying in on identifying and targeting speeding during Operation Safe Driver Week.
The Operation Safe Driver Program was created to improve the driving behaviors of all drivers and reduce the number of crashes involving commercial motor vehicles on roadways through educational and traffic enforcement strategies. Operation Safe Driver Week was created by CVSA with support from federal agencies in Canada, Mexico and the U.S., the motor carrier industry, and transportation safety organizations.
FedEx to test drone air delivery in its middle-mile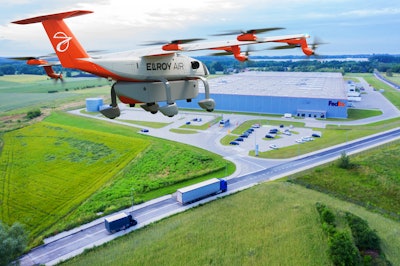 FedEx Express has partnered with Elroy Air in agreement which calls for the No. 1 carrier in 
CCJ's Top 250
 to develop testing plans for Elroy Air's Chaparral autonomous air cargo system within the company's middle-mile logistics operations, moving shipments between sorting locations. 
Unveiled in January, Elroy Air's Chaparral autonomous aircraft is an eVTOL aerial cargo system that can autonomously pick up 300-500 pounds of cargo and deliver it by air up to 300 miles. The Chaparral is capable of longer-range flights without the need for additional infrastructure, such as airports or charging stations.
FedEx and Elroy Air have been working together since January 2020 and will continue their collaboration to pursue certifications and begin flight testing in 2023.
Werner gets waiver allowing certain CLP holders to drive team
In a notice set to publish in the Federal Register Thursday, March 31, the Federal Motor Carrier Safety Administration is granting a five-year waiver to Werner Enterprises (CCJ Top 250, No. 13) that will allow certain commercial learner's permit holders driving for the company to operate a truck without a CDL holder in the front seat.
Werner requested an exemption to allow CLP holders who have passed the CDL skills test but have not yet obtained their CDL from their home state to drive a truck without having a CDL holder in the front seat, effectively allowing them to drive team.
The waiver goes into effect March 31, 2022, and expires March 31, 2027.
FMCSA has previously granted similar exemption requests to C.R. England, initially in 2015, CRST Expedited in 2016, and Wilson Logistics in 2021.