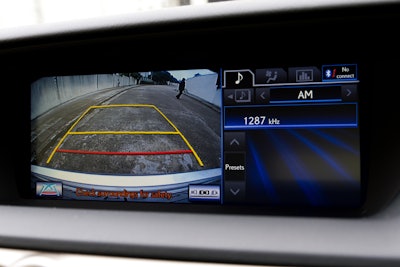 Backup camera technology is standard on every newly manufactured car in the U.S. since the rule took full effect in 2018, but the technology is only a luxury on a tractor trailer.
"It's a pretty common thing in the passenger car industry; it has just never really made it in trucks for a bunch of good reasons, but we're pretty sure we have those issues resolved," said Dan Forthoffer, corporate research and development director at Phillips Industries, which plans to roll out a new backup camera later this year.
One of the main reasons, Forthoffer said, is the owner of the tractor often isn't the owner of the trailer, so the connection factor is a problem when it comes time to drop and hook. There's also the matter of placement so the camera doesn't get smashed when backing into a dock. He said another big issue is transmitting signal reliably at the distance of an entire truck and trailer.
Phillips is still working on a final design, Forthoffer said, but the result will be a wireless camera with a mobile app for drivers that Phillips is developing in order to create a software development kit (SDK) that ELD providers can integrate into their systems. Phillips plans to make the SDK available to ELD providers at no cost.
This way the camera will work with many different devices via WiFi and Bluetooth, and it removes the need for a master/slave connection, Forthoffer said.
"The majority of options for heavy-duty truck backup cams right now are wired options," he said. "A truck driver certainly is not going to buy my screen to work with someone else's backup camera on someone else's trailer.
"Then wireless options are not the best for a 53-foot trailer; they are going to have some lagging issues because of the distance. As far as our market is concerned, I've never seen one that works reliably on a 53-foot (trailer) that's wireless and doesn't require a proprietary screen in order to work," he continued. "I have yet to see all of those things together. I do see the (wireless) license plate ones that have the mobile app, and they seem to work well, but after you take them past 20 to 25 feet, they don't work anymore."
Forthoffer said there are some chip sets that have come out in the last two or three years that have additional power capability in a much thinner broadband spectrum that Phillips will use to more reliably transmit a signal from the camera to the cab of the tractor.
Driver Safety Technology (DST) also provides a backup camera and is working to create a wireless option. DST Co-founder Steve Witt said a wireless option not only eliminates the tractor/trailer ownership issue, it is also less expensive because trailer owners don't have to buy a host monitor (master) or cables to attach the camera to the cab.
But Forthoffer said that presented another hurdle: "how do we get trailer owners to buy it?"
If a trailer is damaged, he said that responsibility falls to the driver and their insurance, but "I think the biggest ROI is going to be being able to identify who it was that damaged the trailer."
He said the Phillips camera can record and capture images when triggered by a large bump that could damage the trailer. But the ultimate goal, he said, is safety.
Witt said the data has already shown that backup cameras on passenger vehicles significantly reduce accidents and back-over deaths, and there is dialogue among policymakers about requiring backup cameras on commercial vehicles.
"(That) was the whole thing that drove this federal regulation on the backup camera on the passenger cars, so now look at the other big population of vehicles, which is commercial vehicles. There's no question that backup cameras will reduce accidents and incidents in commercial vehicles," Witt said. "I believe we are going to see regulatory pressure on best practices for commercial fleets to include camera systems, at minimum backup."