Trucking news and briefs for Friday, May 27, 2022:
Speed limiter comment period extended 45 days
After receiving requests from the American Trucking Associations and the Owner-Operator Independent Drivers Association to extend the comment period of the Federal Motor Carrier Safety Administration's speed limiter proposal, the agency agreed and is adding 45 days for industry experts to weigh in.
The advance notice of supplemental proposed rulemaking docket will now remain open for comments through July 18. It was previously set to close June 3.
As of Thursday morning, the proposal had received more than 12,000 comments since the comment period opened May 4, with the majority of those comments coming in opposition to any sort of speed limiter mandate.
FMCSA's notice is more of an exploratory measure to determine how best to potentially implement speed limiters and does not offer specifics as to the speed to which trucks would be limited. The agency's notice leans heavily on trucks' engine control unit (ECU) as the means to limit trucks to a certain speed.
Kenworth delivers 10,000th next-gen T680 to System Transport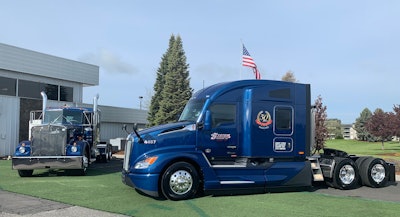 Kenworth recently delivered its 10,000th T680 Next Generation to System Transport at the company's 50th anniversary celebration in Spokane, Washington.
The truck, equipped with a 76-inch mid-roof sleeper, was built by the employees at the Kenworth assembly plant in Chillicothe, Ohio.
"This is a special moment for Kenworth and Kenworth Sales Company – Spokane as we deliver the 10,000th T680 Next Generation just 15 months after product launch to System Transport in celebration of its 50th anniversary," said Hank Johnson, Kenworth general sales manager. "We thank System Transport – and all our T680 Next Gen customers – for their business."
System Transport hauls all types of flatbed freight, primarily throughout the West Coast to the Midwest. Last year, System Transport transported the 2021 U.S. Capitol Christmas Tree from the Six Rivers National Forest in California to Washington, D.C. A team of its drivers used a T680 Next Gen 76-inch mid-roof sleeper to successfully complete the special 3,300-mile haul.
"It is an honor for System Transport to be selected to receive Kenworth's 10,000th T680 Next Generation," said Jim Williams, founder and chairman of Trans-System (CCJ Top 250, No. 95), the parent company of System Transport. "We have purchased Kenworth trucks from our Kenworth dealer in Spokane for more than 30 years and have ordered more than 60 T680 Next Gen trucks so far."
During the event, Kyle Treadway, president of Kenworth Sales Company, presented System Transport with a special anniversary gift – a refurbished and fully operational 1965 Kenworth W900.
Volvo Trucks Academy opens new facility focused on electric truck training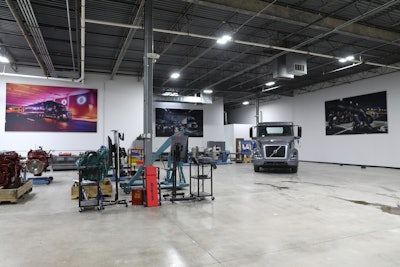 Volvo Trucks North America announced that the Volvo Trucks Academy opened a new facility in Tinley Park, Illinois, to expand access to battery-electric truck training in the central U.S.
The new 14,865-square-foot facility is larger and more modern than the previous Illinois training facility, enabling Volvo Trucks to provide more robust, hands-on learning opportunities for customers and dealers interested in electromobility solutions, including the Volvo VNR Electric model.
"The programs at Tinley Park will help provide our dealership partners with the robust sales and service training required to become Volvo Trucks Certified Electric Vehicle (EV) Dealers and to support customers with their zero-emission transportation goals," said Leanne Fitzpatrick, strategic programs manager, Volvo Trucks Academy. "As interest in the Volvo VNR Electric model continues to build across North America, the Tinley Park facility will serve an important role servicing dealers and customers in the Central U.S., as it is easily accessible from both O'Hare and Midway airports."
Course work at Tinley Park will provide technicians with the proper training and understanding of all safety procedures when servicing high-voltage electric drivetrains and components. Other courses will focus on Volvo VNR Electric sales and operations support, in addition to offering continued guidance for diesel trucks, such as engine overhaul, transmission design and function, and parts sales and warranty fundamentals.
The Tinley Park facility has two full-time instructors who provide two technical courses per day, plus a third course (sales, parts, warranty, or leadership). Most courses are a full day, and instructors teach up to five days a week depending on the schedule. The site also features meeting spaces, so those classes are not disrupted by technician training.
These courses are available in one of eight Volvo Trucks Academy Learning Centers across North America. In addition to the new Tinley Park facility, Volvo Trucks' other U.S. locations include Atlanta, Georgia; Dallas, Texas; Greensboro, North Carolina; Hagerstown, Maryland; and Hayward, California, as well as two in Canada in Woodbridge, Ontario, and Quebec City, Quebec.