Trucking news and briefs for Wednesday, June 1, 2022:
COVID-related HOS emergency declaration extended
The Federal Motor Carrier Safety Administration confirmed Friday it would continue to offer carriers moving a bevy of commodities relief from maximum drive-time limits in the hours of service with yet another 90-day emergency declaration extension.
From June 1 through the end of August, carriers of the following commodities can take advantage of the relief when the haul is in "direct assistance in support of emergency relief efforts related to COVID-19," the agency said:
Livestock and livestock feed
Medical supplies and equipment related to the testing, diagnosis, and treatment of COVID-19
Vaccines, constituent products, and medical supplies and equipment including ancillary supplies/kits for the administration of vaccines, related to the prevention of COVID-19
Supplies and equipment necessary for community safety, sanitation, and prevention of community transmission of COVID-19 such as masks, gloves, hand sanitizer, soap, and disinfectants
Food, paper products, and other groceries for emergency restocking of distribution centers or stores
Gasoline, diesel, diesel exhaust fluid (DEF), jet fuel, ethyl alcohol, and heating fuel including propane, natural gas, and heating oil.
Some commodities formerly covered under the waiver are no longer included, notably vehicles, building materials and others that had been specifically mentioned by the FMCSA as qualifying for the exemption as "supplies to assist individuals impacted by the consequences of the COVID-19 pandemic."
Watchers might expect further narrowing at any time, the agency said in the declaration from Deputy Administrator and acting agency chief Robin Hutcheson. "FMCSA intends to continue to closely monitor the safety impacts of the relief granted under this extension. ... As necessary, FMCSA may take action to modify the Emergency Declaration, including scaling back the commodities covered by the Emergency Declaration or changing the restrictions associated with transporting the commodities."
Or, ultimately, to move to terminate the hours relief sooner than the new August end, "if conditions warrant," the agency added.
FMCSA's reporting requirement for motor carriers utilizing the waiver remains in place, following its introduction September 1 last year. The agency cited evidence of continued reliance on the hours waivers as the reason for the continuation. Carriers are reporting to FMCSA through their portal accounts on the DOT website "their USDOT number; the number of trips made by commercial vehicles under the COVID Declaration; the type of goods transported; and for multiple goods transported, an indication of which commodity was transported the most."
OEMs sue California over latest CARB heavy-duty truck emissions requirements
The Truck and Engine Manufacturers Association (EMA) on Friday sued the state of California alleging the state's California Air Resources Board (CARB) did not provide the OEMs enough lead time to meet stricter new emissions goals on new truck and engine builds.
The group, in a letter announcing the suit, wrote that on Dec. 22, 2021, "CARB adopted the Heavy-Duty Engine and Vehicle Omnibus Regulation, a package of stringent emission standards, test procedures, and other emission-related requirements applicable to new heavy-duty on-highway engines and vehicles sold in California" requiring compliance by the start of 2024, leaving only two model years of lead time for manufacturers.
The lawsuit alleges that this violates the federal Clean Air act by not allowing manufacturers the required four full model years of lead time.
"Truck and engine manufacturers are proud that today's modern engines reduce harmful emissions to near zero levels, and we are committed to building still cleaner products," TEMA President Jed R. Mandel said in the letter. "But CARB must provide manufacturers the minimum four years of lead time mandated by Congress. ... This lawsuit is simply to ensure that CARB follows all of the prescribed rules -- one of which is intended to maximize the likelihood of the smooth and successful implementation of new emission standards."
TEMA's lawsuit comes as other trucking-related groups have petitioned California to delay CARB enforcement of its longstanding Statewide Truck & Bus Rule's final phase at the end of the year, as the pandemic has stymied the production and sales of newer model trucks. As it stands, beginning Jan. 1, 2023, an estimated 76,000 owners who live or operates in California with a pre-2010 emissions-spec engine may lose their ability to operate within the state.
Mack Academy opens new EV-focused facility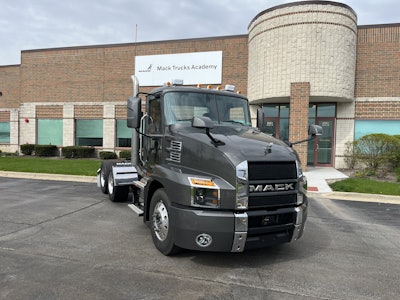 Mack Trucks announced this week that the Mack Academy recently opened a new facility in Tinley Park, Illinois, to better support battery-electric vehicle (BEV) training and provide dealers and customers with easier access to training in the central U.S.
The Mack LR Electric refuse model, Mack's first fully electric Class 8 vehicle, is now available for order and is supported by dealers and training facilities in various locations across the U.S.
The Mack Academy signed a seven-year lease, with an option to renew, for the 14,865 square-foot Tinley Park facility located in a manufacturing park outside of Chicago. The Tinley Park location is newer, larger and more modern compared with the previous site based in Joliet, Illinois.
"The Tinley Park Mack Academy is located in a central location so that dealers and customers needing training can easily travel to the facility," said Scott Behe, Mack Academy senior manager of operations. "It is in close proximity to both O'Hare and Midway airports, and the facility is about 5,500 square-feet bigger than our previous location, so it fulfills our need for more space for BEV-specific training."
BEV coursework at Tinley Park is focused on BEV safety training, operation, repair and sales. Other courses include diesel training such as engine overhaul, transmission design and function and parts sales and warranty fundamentals.
The Tinley Park facility has two full-time trainers and offers technical training sessions up to four times a day. The site also features meeting spaces so those classes are not disrupted by technician training.
The Mack Trucks Academy has six training locations throughout the U.S. and Canada. Mack also operates training facilities in Allentown, Pennsylvania; Atlanta, Georgia; Grand Prairie, Texas; and Toronto, Canada.
LoadStop TMS raises $5M in seed funding
Transportation management system LoadStop announced recently it has raised nearly $5 million in seed funding.
Since 2019, LoadStop has helped hundreds of trucking companies adapt to the ever-changing requirement of growth. In a span of three years, the company has grown to 200-plus clients, 70-plus employees and 10,000-plus trucks.
"We started LoadStop with the vision to digitally transform the segmented trucking industry," said Farhan Rafique, co-founder of LoadStop. "The U.S. trucking industry is still suffering from the inefficiencies of legacy TMS systems and traditional fleet management practices. Amazon's effect on freight visibility, paperless and contactless management due to COVID and ELD and hours of service compliance created an opportunity to digitize, build a collaborative and integrated transportation management system."
The new funding aims to support LoadStop's product-led growth strategy in three core areas: product enhancement, team growth, and growing and diversifying its customer base.