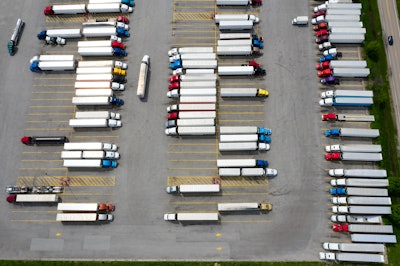 The House Committee on Transportation and Infrastructure on Wednesday advanced an amended version of the Truck Parking Safety Improvement Act, a bill that could unlock hundreds of millions of dollars to address a lack of truck parking nationwide. It now heads to the full House for consideration.
Introduced by Reps. Mike Bost (R-Illinois) and Angie Craig (D-Minnesota) last year, the legislation would authorize the creation of a competitive grant program for states to spend $755 million over a four-year period on new truck parking projects, including capacity expansion and enhancements like lighting, restrooms and other security features.
[Related: Chain truck stops fill up earlier, more often than independents]
Trucking stakeholders, including the American Trucking Associations (ATA) and Truckload Carriers Association (TCA), applauded the bill's advancement, with TCA President Jim Ward noting that "developing more safe and secure truck parking is certain to entice additional drivers to this great industry, alleviate the headaches that currently exist amongst our driver population, and in the long run, improve upon our industry's ability to safely and effectively deliver to the nation."
Similarly, calling the lack of safe and accessible truck parking a "serious concern for our industry," ATA President and CEO Chris Spear, noted that drivers waste hours looking for secure places to park "hurting their ability to rest and adding undo stress to their days."
Indeed, truck parking is routinely highlighted in the American Transportation Research Institute's (ATRI) annual list of top issues facing trucking. Truck parking, which last year was listed as a tie for No. 1 among commercial driver respondents, didn't crack the Top 10 for carrier respondents, but settled in at No. 5 overall. ATRI research has found that on average drivers spend almost an hour (56 minutes) per day looking for parking.
"The availability of safe and secure truck parking is not just a challenge current drivers, it is a barrier our industry must overcome in attracting new drivers – particularly women," Spear said. "Solving it won't just help today's industry, it will go a long way toward helping trucking recruit and attract a more diverse workforce," Spear said.