Trucking news and briefs for Wednesday, Sept. 14, 2022:
FMCSA extends comment period on proposed Medical Examiner's Handbook
The Federal Motor Carrier Safety Administration is extending the comment period for its notice of proposed regulatory guidance relating to the draft Medical Examiner's Handbook, a draft of which was published in a federal notice in August.
The agency received comments from the Owner-Operator Independent Drivers Association and two individuals requesting an extension of the comment period and agreed to extend the comment window through Oct. 31.
Commenters noted that the draft MEH is 122 pages long "with highly detailed and technical information," and said more time was needed to "thoroughly review the updated MEH and develop meaningful feedback."
The current draft of the proposed MEH is included in the docket of the latest federal notice and can be seen here. Comments on the proposal can be made here.
Drayage carrier orders Volvo VNR Electric trucks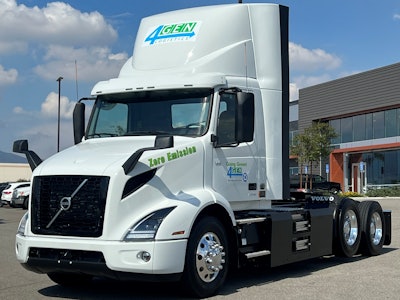 Volvo Trucks North America customer 4 Gen Logistics, a fourth generation, family-owned drayage company, has ordered 41 Volvo VNR Electric trucks to haul freight between the Port of Long Beach and Southern California's Inland Empire.
The order was announced Sept. 13 during an event at the Port of Long Beach with representatives from 4 Gen Logistics, Volvo Trucks North America, TEC Equipment, Electrify America, California Air Resources Board, the Port of Long Beach, and the city of Long Beach.
"4 Gen Logistics has a goal of operating a 100% zero-tailpipe emission fleet in 2025, and the Volvo VNR Electric trucks being deployed in Southern California are an integral part of achieving our goal," said David Duncan, the owner of 4 Gen Logistics. "Feedback from our drivers showed that the Volvo VNR Electric was their preferred truck choice — from the quiet motor, smooth ride, and hauling power — which was a key factor in our purchasing decision. We look forward to putting the Volvo VNR Electric through the daily rigors of our operations and testing out the range of the next generation trucks while hauling freight."
The enhanced, next-generation Volvo VNR Electric model, which began production in Q2 2022, features an operational range of up to 275 miles. 4 Gen Logistics' Volvo VNR Electrics fleets will operate two shifts per day, making up to six runs to and from the Port of Long Beach and 4 Gen Logistics' headquarters in Rialto, California.
4 Gen Logistics purchased 40 Volvo VNR Electric trucks with funding support from California's Hybrid and Zero-Emission Truck and Bus Voucher Incentive Project (HVIP) and the Mobile Source Air Pollution Reduction Review Committee (MSRC) to reduce its impact on the communities where its freight trucks operate. One additional Volvo VNR Electric truck is being deployed as part of the Volvo LIGHTS project.
To charge its growing battery-electric fleet, 4 Gen Logistics secured more than four acres from the Port of Long Beach with a 10-year agreement to build and operate truck charging infrastructure. The site will include 60 350-kW charging stations in two phases at the port facility and another 30 at the Rialto facility, also in two phases, which will enable 4 Gen Logistics to charge its six-battery pack Volvo VNR Electric trucks (which feature 250 kW charging capability) to an 80% state of charge in 90 minutes. As part of the 10-year agreement between 4 Gen Logistics and the POLB, Electrify America will install the charging at both the POLB location and the Rialto facility.
Amazon expands benefits for Delivery Service Partners
Amazon has announced two new value-added services to empower Delivery Service Partners (DSPs) to offer best-in-class benefits for their drivers.
A new academic program, Next Mile, provides drivers employed by participating DSPs with up to $5,250 per year to access more than 1,700 academic programs, including bachelor's and associate degrees, skill certifications, and high school completion courses. Amazon also announced the addition of a 401(k) plan to the suite of services available to DSPs and is providing DSPs an estimated $60 million over the first year to help these small business owners match employee contributions.
These new benefits and additional rate increases for DSPs to offer competitive pay to their drivers total a more than $450 million investment over the next year, Amazon said.
"Through the DSP program, small businesses around the world have generated over $26 billion in revenue for their companies since launching four years ago," said Parisa Sadrzadeh, vice president of Amazon's Worldwide Delivery Service Partner Program. "We couldn't have done that without DSPs and their incredible teams. We will continue to innovate with them and use our economies of scale and resources to help them provide best-in-class offerings to their employees."
The Next Mile program is offered by InStride and was inspired by Amazon's Career Choice program, which offers college tuition prepaid to more than 750,000 hourly Amazon employees. Next Mile provides participating DSPs and their drivers access to technical training and upskilling opportunities to help them advance their careers.
DSPs and drivers will have access to skill-based programs, GEDs, or degree programs at educational institutions across the United States. The program also provides access to curated career pathways to help participants identify educational programs and career options based on skills and interests.
Next Mile will be available to all participating DSPs and their teams starting in January 2023, with Amazon reimbursing DSPs for tuition expenses for all eligible drivers.
TLSS names new COO
Transportation and Logistics Systems, Inc., has named Justin Frey its Chief Operating Officer, effective as of Sept. 12.
Frey started his career in transportation and logistics in 1989 with Consolidated Freightways, when it was the nation's largest long-haul trucking company, as a customer service representative and held various positions there, including dispatcher, dock supervisor, sales executive and terminal manager.
From 2013 to 2018, he worked for FFE Transportation, serving as terminal manager in California and Illinois before being promoted to Eastern Region Director of Operations. In 2018 and 2019, Frey worked as Director of Operations with Dicom/Eastern Connection, and from 2019 to 2020, he was Director of Freight Operations for Freeman Company.
He most recently held the position of Vice President of Operations with LandAir and PDS, LandAir's truckload subsidiary.
"Justin is a proven sales and operations industry professional, proficient in all aspects of dry and temperature-controlled LTL, TL and parcel transportation," said Sebastian Giordano, CEO of TLSS. "As we prepare for growth and expansion through acquisitions, it is imperative that the company have an experienced and seasoned industry executive to ensure operational excellence, successful integration and profitable organic growth."