Trucking news and briefs for Friday, Sept. 30, 2022:
FMCSA issues emergency declaration in eight states for Hurricane Ian relief efforts
To help the recovery efforts of areas affected by Hurricane Ian, which made landfall Wednesday afternoon along Florida's west coast and caused catastrophic flooding and other damage, the Federal Motor Carrier Safety Administration has issued a Regional Emergency Declaration that covers eight states.
The declaration waives the maximum driving time hours-of-service regulations (49 Code of Federal Regulations 395.3) for truck drivers providing emergency relief in Alabama, Florida, Georgia, Kentucky, Mississippi, North Carolina, South Carolina and Tennessee.
Carriers providing direct assistance supporting emergency relief efforts transporting supplies, goods, equipment and fuel into the affected states can operate under the declaration.
Direct assistance does not include transportation related to long-term rehabilitation of damaged physical infrastructure or routine commercial deliveries, FMCSA noted, including mixed loads with a nominal quantity of qualifying emergency relief added to obtain the benefits of this emergency declaration, after the initial threat to life and property has passed.
FMCSA's declaration is effective through Oct. 28, or until the end of the emergency, whichever is earlier.
DAT partners with ACT Research to enhance market reports, forecasts
DAT Freight & Analytics and ACT Research have entered into an agreement that will enhance the service offerings of both organizations.
The companies will work together to develop market reports and forecasts based on DAT RateView, a database of truckload pricing data, and ACT's economic analysis and commercial vehicle data. Currently, ACT incorporates DAT data into its quarterly freight rate and volume forecast report, which was 98.7% accurate in its Q2 2022 forecast report, the company said.
Said Tim Denoyer, Vice President and Sr. Analyst at ACT Research: "Joining forces to harness the power of DAT's dearly valued RateView data, with our strategic forecasting services, will enhance our offerings to the industry."
With more than 500 million loads posted each year, DAT iQ provides details about spot and contract rates through a database of $137 billion in annual market transactions.
"ACT Research provides a critical service to the industry," said Ken Adamo, DAT's Chief of Analytics. "We're excited about how our collaboration will enhance their spot and contract rate forecasting to benefit shippers, carriers, brokers and all stakeholders alike."
ACT utilizes proprietary Class 8 equipment population and driver analysis, with award-winning economic forecasting, to predict DAT rates over a two- to three-year window. "We add value by applying our expertise in freight volume and capacity dynamics to predict where rates are headed in the future," added Denoyer.
Volvo to offer EV chargers in new program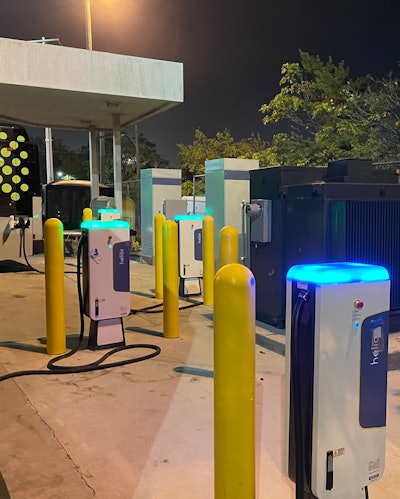 Volvo Trucks North America announced a new program to provide streamlined access to electric vehicle (EV) charging offerings for dealers and fleet customers.
The Vendor Direct Shipping program provides customers the opportunity to procure mobile and fixed charging hardware solutions directly from Volvo Trucks dealers when they purchase Volvo VNR Electric trucks.
"The Vendor Direct Shipping program is a simple and effective method of ordering charging hardware for customers purchasing VNR Electric trucks," said Peter Voorhoeve, president, Volvo Trucks North America. "The Volvo Trucks dealer will be able to log in to the parts portal and order chargers just as they would to order any truck part. As we've said from the beginning, the purchase of a VNR Electric is more than just a truck, it's a total transportation solution and providing our customers with reliable charging hardware is a key pillar in that process."
Beginning this October, customers will have the opportunity to purchase charging hardware when they purchase a Volvo VNR Electric truck. Customers will have two chargers from Heliox to choose from initially: a 50kW Mobile DC Fast Charger (Single Port CCS1) or a 180kW Flex DC Fast Charger (up to three CCS-1 dispensers).
Volvo Trucks said it will continue to expand its offerings and partners as more and more fleets begin to adopt battery-electric trucks.
Customers participating in the program can also work with participating vendors to develop tailored and scalable infrastructure to ensure the battery-electric trucks are being charged up efficiently while making the best use of available power.
Heliox is the first provider to participate and has a team of EV charging experts and partners to ensure the entire project goes smoothly, from delivery, setup, commissioning, testing, training, operations, and beyond.
Former U.S. Xpress exec joins autonomous truck firm
Autonomous truck startup Waabi has hired Dustin Koehl, who will serve as the company's Head of Transportation.
Koehl is a 16-year trucking industry veteran and most recently led Over-The-Road (OTR) Operations for U.S. Xpress Enterprises (CCJ Top 250, No. 19). Waabi says Koehl is one of the first trucking executives to join an autonomous vehicle company.
Waabi says the hire shows tremendous progress for the company's move toward commercialization, adding that Koehl will bring his expertise to lead Waabi's fleet and transportation efforts.