Trucking news and briefs for Friday, Jan. 27, 2023:
Fleet seeks waiver to install pulsating brake lights
Encore Building Products, which operates a fleet of 24 trucks out of Springdale, Arkansas, is petitioning the Federal Motor Carrier Safety Administration for an exemption from the requirement that lighting devices be steady burning.
The company wants to install a module manufactured by Intellistop that pulses the rear clearance, identification, and brake lamps from low-level lighting intensity to high-level lighting intensity four times in two seconds when the brakes are applied.
FMCSA in October denied an exemption request from Intellistop itself for an industry-wide exemption that would allow the module on all trucks. The agency noted, however, that individual carriers could still seek an exemption for using the system.
In Encore's request, the company said the pulsating lights would "enhance rear signal systems" and "may significantly increase visibility and reduce the frequency of rear-end crashes." Encore cited previous research from the National Highway Traffic Safety Administration that has shown pulsating brake lights appear "to significantly increase visibility of motor vehicles when decelerating and stopping, which should lead to significant reductions in rear impact crashes."
FMCSA is accepting public comments on Encore's request for 30 days at www.regulations.gov by searching Docket No. FMCSA-2022-0242 beginning Friday, Jan. 27.
FMCSA in 2020 granted a waiver to the National Tank Truck Carriers to allow fleets to install a red or amber brake-activated pulsating lamp in the upper center position or in an upper dual outboard position on the back of tanker trailers, in addition to the steady-burning brake lamps required by federal regulations. The waiver granted to NTTC allows any carrier using tankers to install the lights. The waiver is effective immediately and is good through Oct. 8, 2025.
Electric terminal truck company expands into Canada
Orange EV, a manufacturer of battery-electric yard trucks, announced Wednesday it is expanding into the Canadian market, marking an international growth milestone driven by the strong financial and operational benefits of electric yard truck fleets.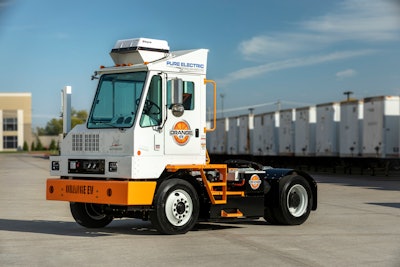 Demand continues to increase as the global trucking industry has come to understand that Orange EV's trucks are better for operations as well as the environment, the company said.
To head Canadian operations, Orange EV has hired global business leader Roberto Bragagnolo as its Country General Manager. He arrives at Orange EV after serving as GM of Finning, the world's largest Caterpillar dealer, and previously spent two years with Export Development Canada involved in global trade across clean energy and advanced manufacturing.
The company's Canadian division, Toronto-based OEV Canada Inc., recently became operational, and in addition to providing vehicles for purchase, will be providing in-country service and parts support.
"Orange EV has long anticipated this expansion in Canada, and with the company's proven presence in cold-weather markets such as Minnesota, western New York, and already in Ontario, it's a natural move that will benefit North American customers and the environment alike," Bragagnolo said.
[Related: Trucking goes electric without hitting the open road]
Tallgrass Freight names new president
Freight brokerage Tallgrass Freight Co. (TGF) has introduced the company's new president, Sean Richardson, who brings more than 10 years of experience as a manager, freight broker and agency owner in the logistics industry. Richardson's appointment as the company's leader represents a new chapter for the Shawnee, Kansas-based freight agent network.
"When Sean started as an agent, he was brought in just like every other agent," said Founder and CEO, Damon Anderson. "But it was quickly evident that Sean was going to succeed and grow. He embodies the Tallgrass values so well."
Richardson worked his way up from freight agent to the Tallgrass VP of Growth and Development.
"In my previous role as the Tallgrass VP, I worked with agents to establish development and growth strategies," Richardson said. "Now moving to this new role, I will have a broader perspective with a focus on all departments, including, information technology, billing, collections, finance, claims and customer service."
His responsibilities as president will include oversight and leadership of all departments at Tallgrass, from freight agent recruitment through operations.